New York's Hudson Valley is one of the premier wine regions in the country. In fact, it's home to the oldest continuously running winery in America. 
But this isn't the only winery you can visit.  There are dozens of world class wines produced in Hudson Valley wineries from locally grapes. 
What better way to enjoy your trip than to visit some of the best wineries in the Hudson Valley?
No time to discover the best wineries Hudson Valley now?  Pin It and save it for later: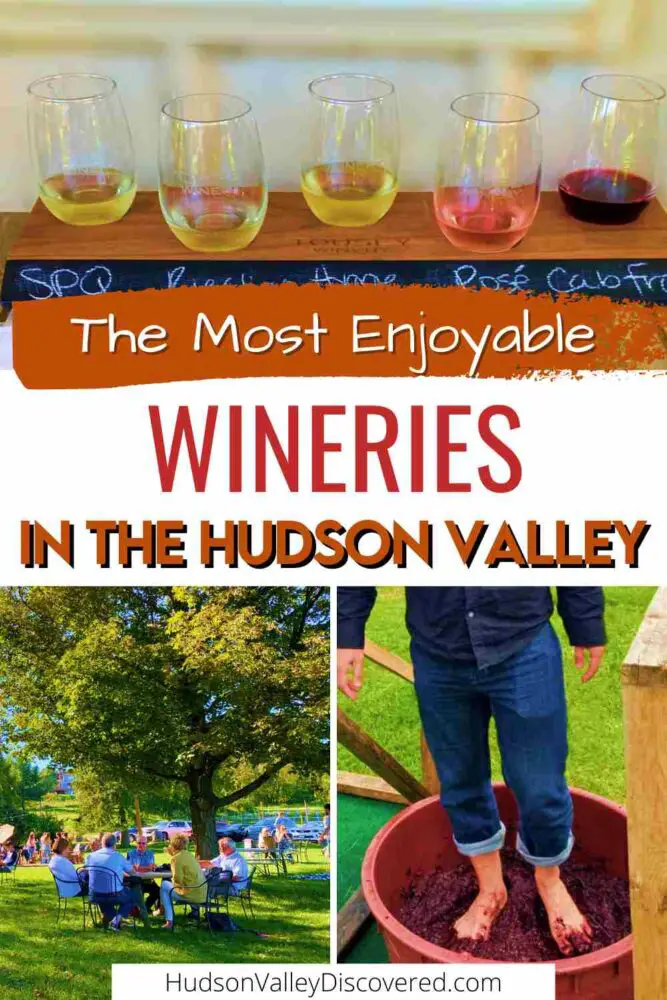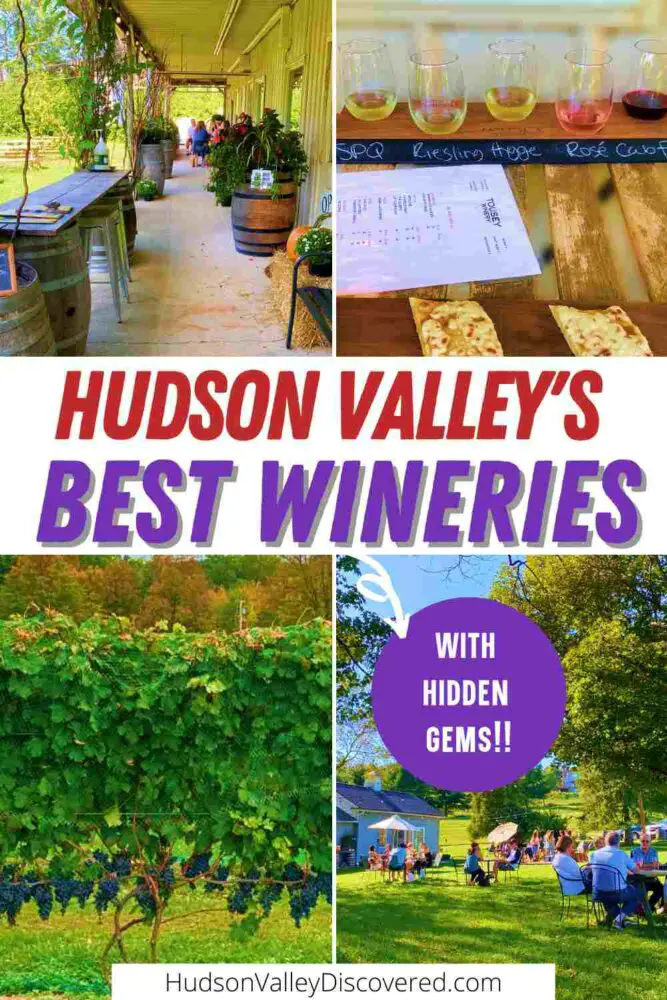 Please note this post may contain affiliate links, which means we may receive a commission, at zero cost to you, if you make a purchase through a link. Please see our full Disclosure for more information. If you have any questions, please contact me.
Guided Vineyard Tour from NYC
If you're visiting NYC and your time is limited but you'd like to experience a Hudson Valley vineyard, then you can take a private tour for two by helicopter from Manhattan to Torne Valley Vineyards at the southern end of the Hudson valley. 
It includes private tour of the vineyard and a 3-course lunch with wine tastings.  It's definitely not cheap, but for an absolutely decadent splurge, it's hard to beat. 
>> BOOK THIS PRIVATE VINEYARD TOUR HERE 
---
The Best Wineries Hudson Valley, NY 
Discover the best wineries in Hudson Valley NY by taking a self-guided Hudson Valley winery tour using this guide. I am constantly adding to this list – but not every winery I visit makes it on to this list of the best Hudson Valley wine tours/ wineries. 
Skip straight to:
Baldwin Vineyards
Christopher Jacobs Winery at Pennings Vineyard
---
Tousey Winery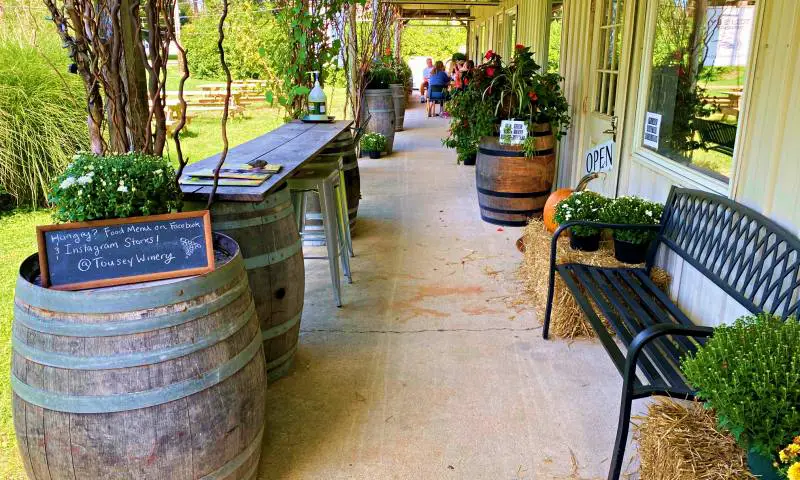 This is one of my favorite NY wineries.  Hudson Valley has plenty to choose from, but the setting and tasting is especially lovely.  When you arrive, there is a parking lot next to a large beige building and no vineyards, so it doesn't look that appealing. 
However, there is a long patio along the side of the building that is set up with tables, flowers, barrels and benches.  There are also several picnic tables under nearby trees. It was all very cute and stylish.  
The wine is all sourced and sold in New York State, the vineyards are about 10 miles away and can only be visited by specially arranged private tour.  The tasting, however, is great.  It's $12 for a 3-pour flight or $18 for a 5-pour flight.  You get to choose from virtually everything on the menu. 
The wines are served in stemless wine glasses arranged in a wooden board. At the front of the board is a small blackboard on which the names of the wines are written so you can clearly identify each wine.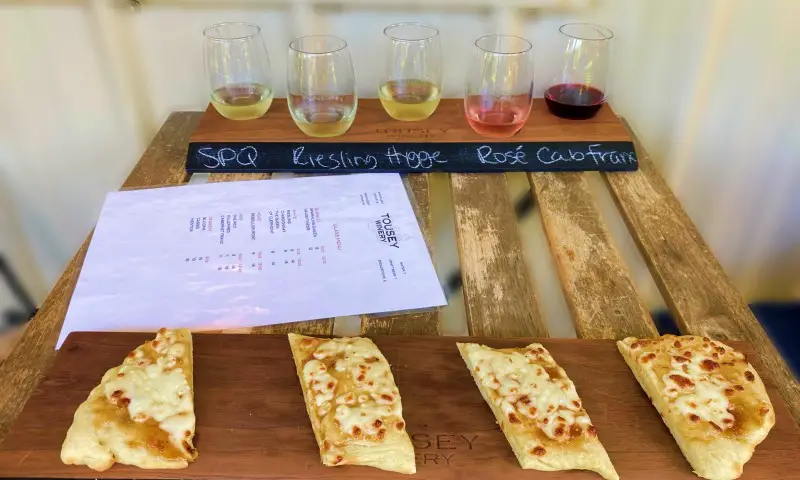 They also have a café with a small menu that changes so frequently that the menu is available on their Instagram and Facebook Stories.  They bake flatbreads inhouse.  I had mozzarella and fig jam and it was delicious.   
The server was extremely friendly and helpful.  Although they were no written explanations of the wines, she took time to give us recommendations (hers and the owner's) and also tell us the most popular wines, and then explain a little about each one we chose.  
There is a small indoor section, though this is less successful décor-wise than the outdoor section.  There is a small store where you can buy their wines by the bottle, but no pressure to buy. 
Overall, this is a really lovely destination experience. 
OPEN:
Wednesday: 4:00 PM – 8:00PM
Thursday: 4:00 PM – 8:00PM
Friday: 12:00 PM – 8:00PM
Saturday: 11:00 AM – 8:00PM
Sunday: 11:00 AM – 6:00PM
---
Hudson Chatham Winery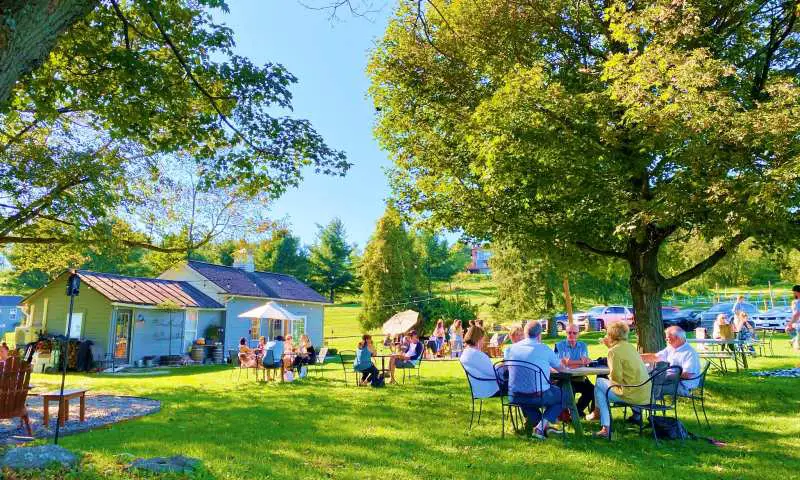 This is right up there as one of the best wine tasting Hudson Valley experiences.  
The winery has a large garden with shady trees, right next to their vineyards. Numerous Adirondack chairs and tables are scattered around the garden, and some blankets are provided if tis a little chilly out.  There is a large pile of wine barrels adding to the picturesque setting.  Pleasant "Sunday afternoon music" was playing throughout the garden.   
Inside is stylish but minimalist and small – the garden is definitely the highlight.      
The tasting is $18 for a flight of 6. The wines are set, and included reds, whites and a rose. The wines were served in a regular wine glass and the serving sizes were generous.  My one complaint – they were all served in the same glass, though – I would have preferred a fresh glass each time the wine changed.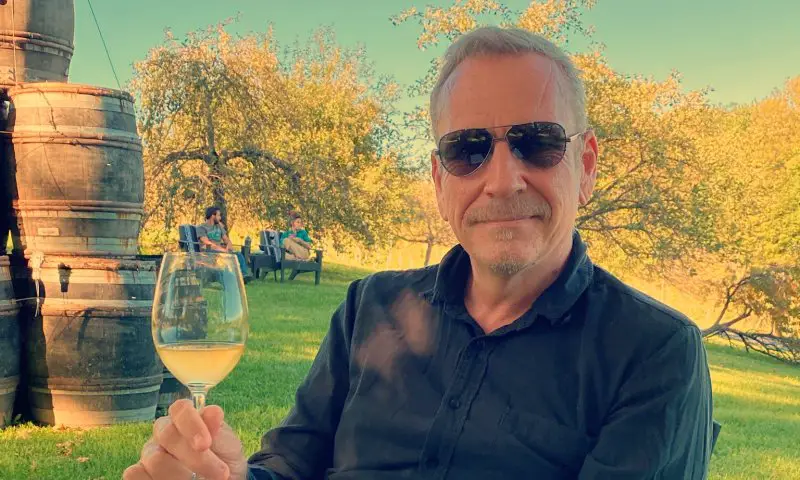 I sat outside and they brought the wines to me one at a time to me.  I could relax and enjoy the gorgeous setting without having to move, and I never felt rushed.  The entire tasting took well over an hour (closer to two hours), and was the perfect way to spend an early fall afternoon.   
I was provided with a sheet with information about wine to take to the table.  However, the servers (owners) also provided detailed explanations as they served each wone, and they were obviously very knowledgeable.   
Some snacks are available.  Tours are not available at the time of writing, though they have plans to offer them in 2022. 
Overall, I highly recommend coming here and spending a few hours relaxing and enjoying the wine and weather.  
OPEN: Weekends 12:00PM -7:00PM
---
Robibero Winery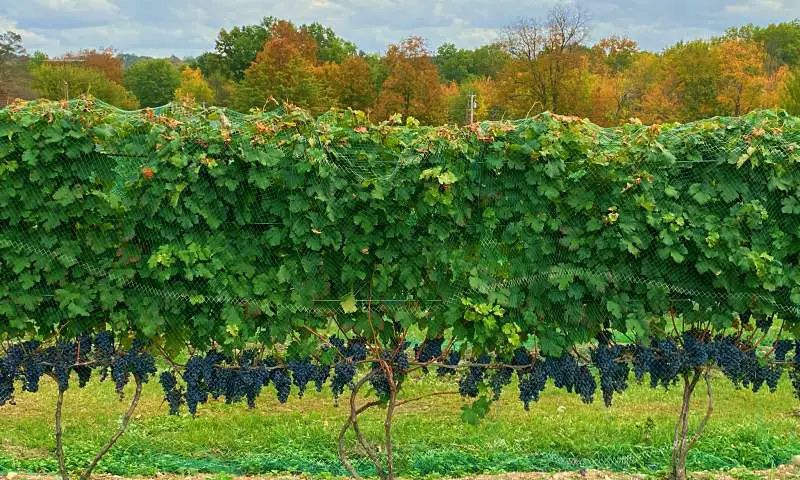 Robibero has a lovey setting right next to vines that are laden with grapes in early fall.  There is a large lawn with chairs and picnic tables scattered around, and some beanbag toss games to play.  They have a patio section and even had a bonfire burning when we visited in the fall.   
There is a large building with a (not very atmospheric) dining and drinking area inside and a large covered patio with a band playing on weekends.  The outside section is much nicer than inside. 
You can buy wine by the glass and bottle, but if you want a tasting, there are a couple of options.  It costs $20 for a wine tasting inside.  There are four wine and you can choose which ones.  You stand up at a bar along the side of the large room. 
It's $15 outside ($25 with stomping – more on that in a second) with four set wines.  There is a large makeshift bar set up and you stand and are served two reds and two whites by servers with mixed knowledge of the wines.  
You could buy pizza ($12 for a small frozen pizza), but you can also bring your own food and have a picnic (you can't bring your own drinks, of course).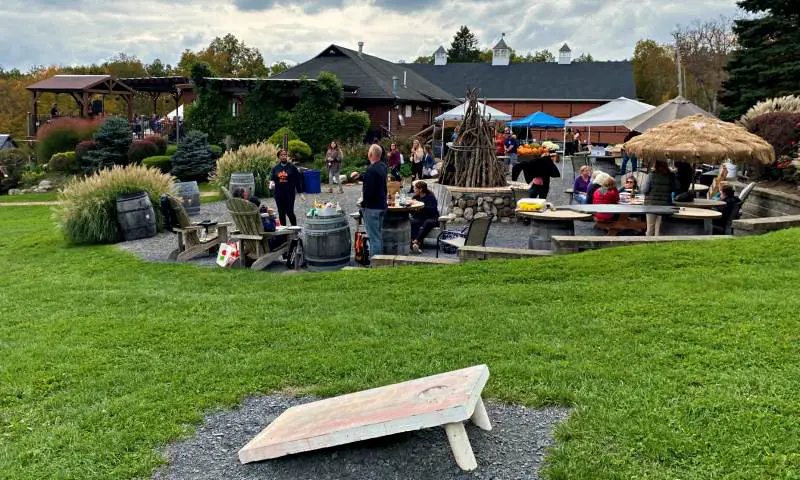 A fun thing they had set up in the fall was grape stomping.  I had always wanted to do this, so gave it a try. It costs $10 (kids for free).  You basically spend as much time as you like stepping up and down in a small plastic tub on already squished grapes (though if you get there earlier in the day, you would actually be stomping full grapes, presumably).  It's kind of gross, to be honest.   
After, a staff member sprays disinfectant on the grapes (so I am assuming they don't actually get made into wine!) and washes off your feet.  It's something to do, but not something I would bother doing again.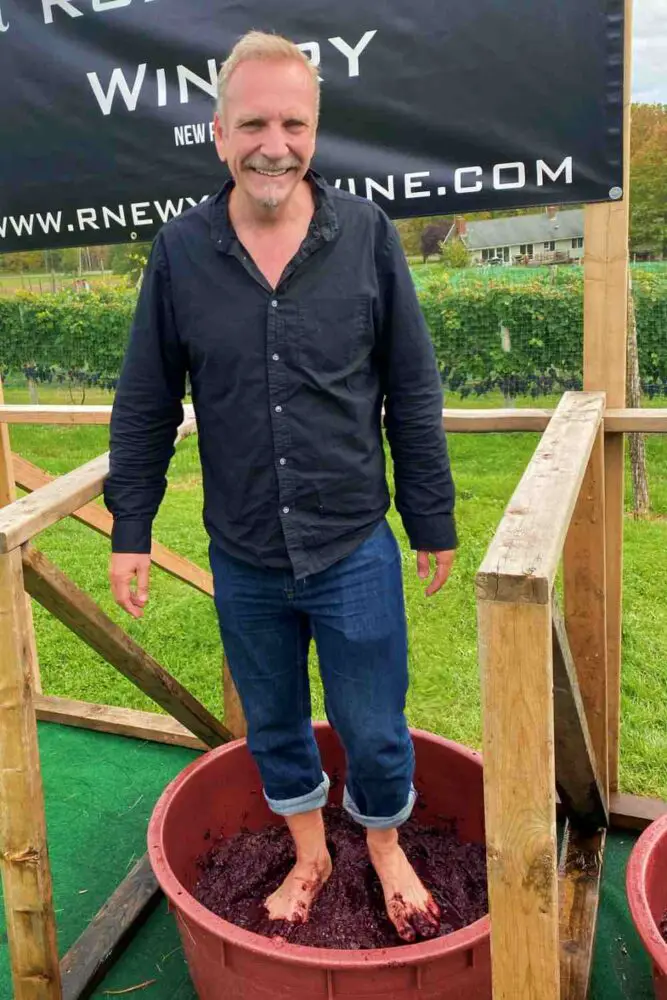 Overall, this place it's not overly sophisticated or hip, and the tasting wasn't all that.   However, it is a nice place to relax, enjoy a picnic and some wine outside on the lawn in a pleasant setting, with some live music.  
OPEN: Daily 11:00AM – 6:00PM
---
Baldwin Vineyards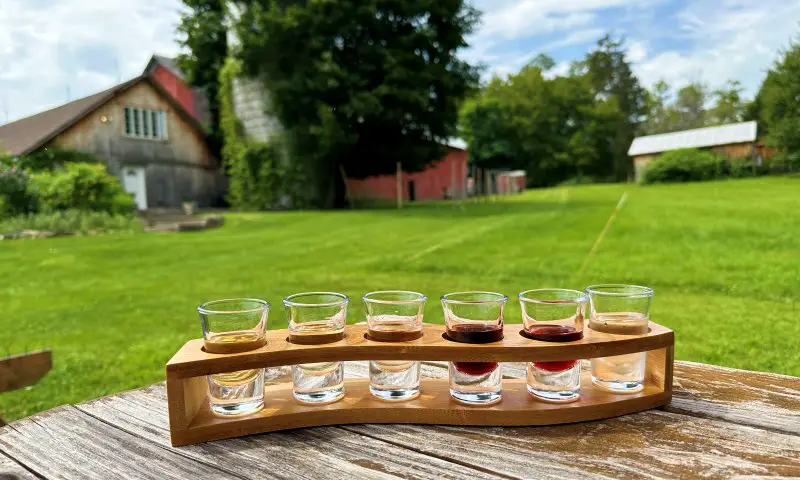 When you arrive at Baldwin Vineyards, you may, as I did, ask yourself if this is a good idea. It looks like a working farm with a main building that isn't super fancy, to say the least.
When you enter the main building, it doesn't seem more promising. The building is pretty basic and not very atmospheric.
However, hang in there. The staff were very friendly when I was there. I asked for a tasting flight and was given 6 different wines in shot glasses, with an explanation of each of them.
If you walk through the building and out the back, there is a large lawn area, with trees in the background, and picnic tables. It's much more charming than the inside. Plus, there are friendly goats in a nearby enclosure.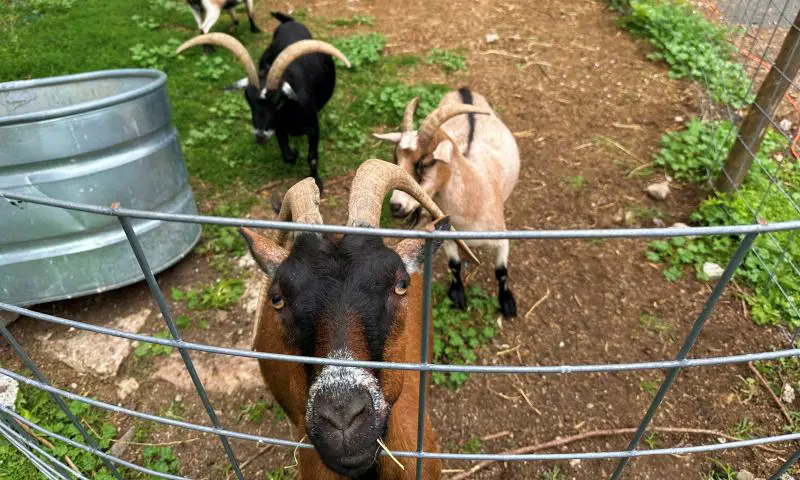 I thought it was a little strange having wine in shot glasses, but actually the wines were not bad and I bought a couple of bottles to take home.
If you're looking for a low-key experience on a farm, and are visiting on a nice day so you can sit outside, then this is a pleasant experience. It's close to Angry Orchards cidery, so you can combine this with a trip there.
OPEN: Summer, Saturday – Sunday, 12:00 – 5:00.
---
Christopher Jacobs Winery at Pennings Vineyards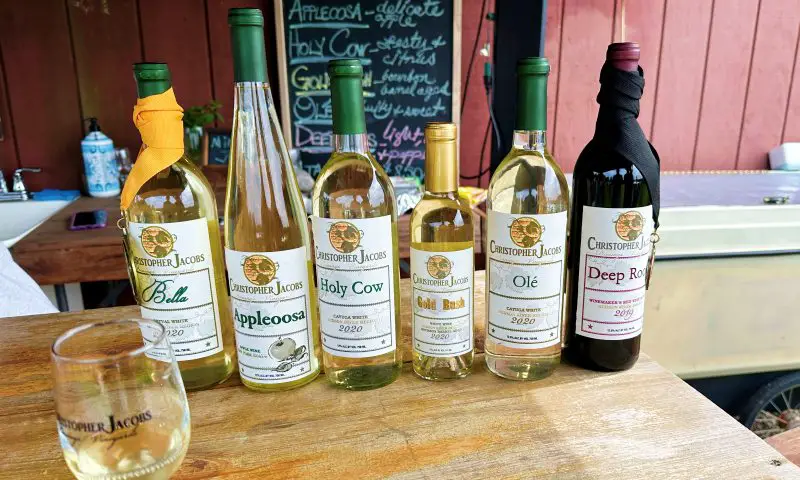 This is a lovely location with a two-level lawn overlooking the surrounding vineyard. A small bar is set up outside their main shed, a local restaurant has a small stand selling food, and a portable stage hosts live performances.
According to their website, they offer three types of tastings – at the bar; picnic style at a table; or, subject to availability and pre-arrangement, a short tour of the vineyard. When I visited, the only one offered was to stand at the bar and try each of the wines they had available.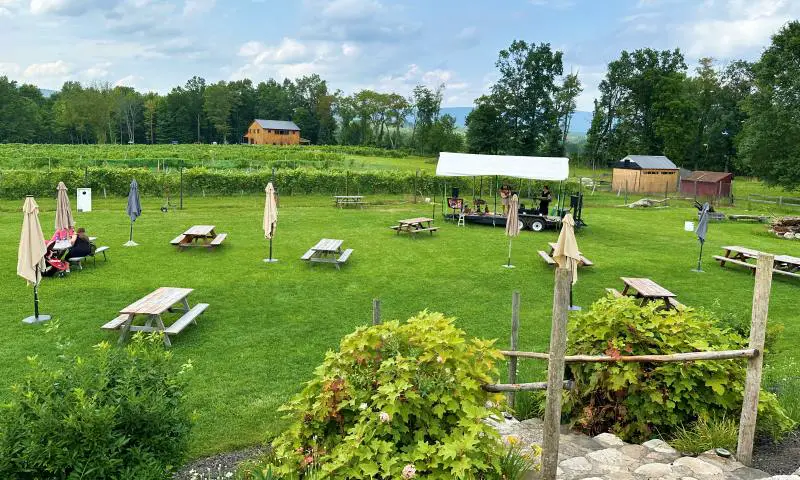 To be honest, I didn't actually like any of their wines, but they had a really nice peach sangria. It was a lovely way to spend an afternoon – drinking sangria, eating food and listening to music in a really lovely setting.
OPEN:
May -June and September – October. Saturday – Sunday, 12 – 5.
July – August. Thursday 3-7 and Saturday – Sunday 12 – sunset
---
Wineries Hudson Valley Map 
The map includes all the best vineyards in Hudson Valley as well as distilleries and cideries. 
Enjoy the wine! 
Do you have any other favorite wineries in NY Hudson Valley?  I'd love to hear about them.  Contact me and let me know. 
If you liked this post, please share the love and Pin It to your Hudson Valley or Wineries boards!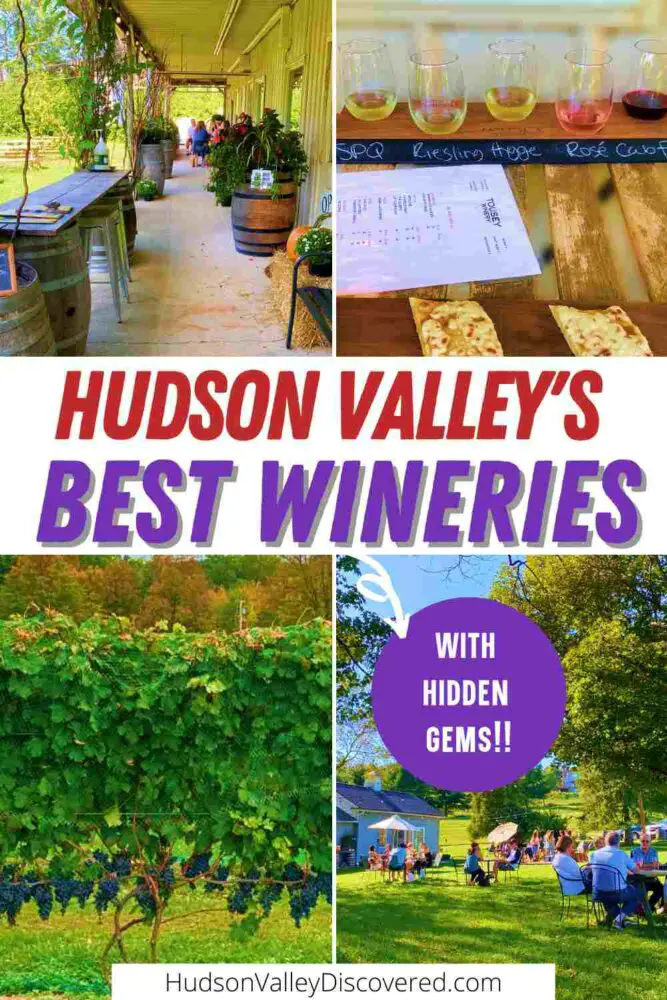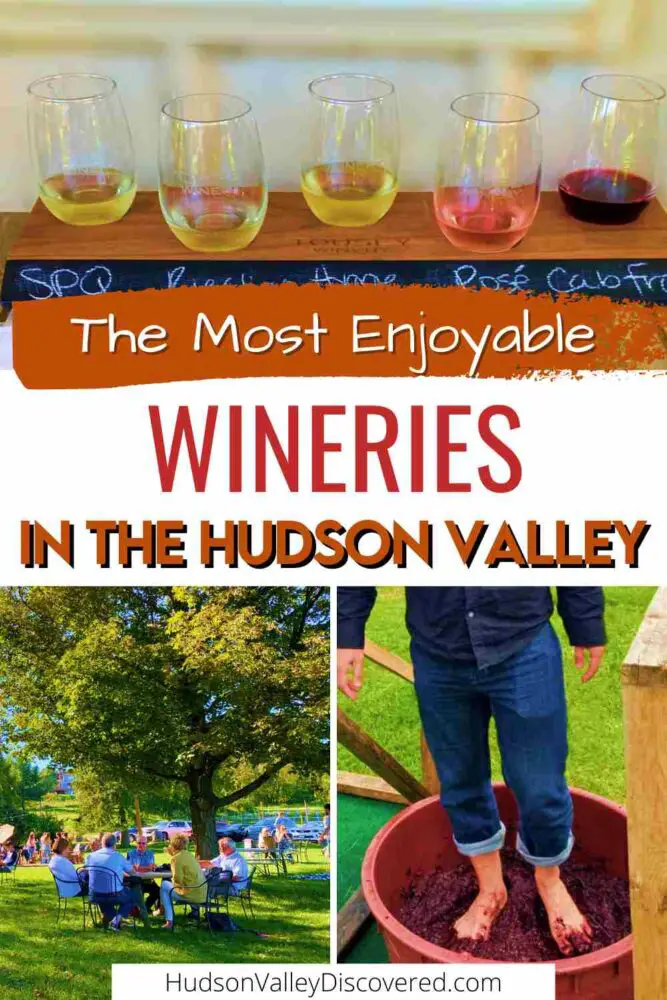 If you liked discovering the best wine tours Hudson Valley has, you might also like: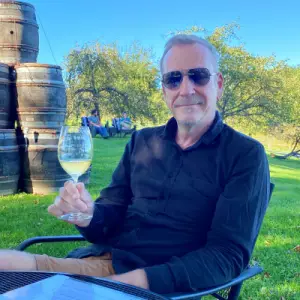 Ian James is a Hudson Valley local. He's been to 82 countries and all 7 continents, but there is truly no place like home and he loves to spend weekends and staycations continuing to discover all that the Hudson Valley has to offer.
---
Hudson Valley Discovered is a participant in the Amazon.com Services LLC Associates Program, an affiliate advertising program designed to provide a means for sites to earn advertising fees by advertising and linking to amazon.com. Amazon and the Amazon logo are trademarks of Amazon.com, Inc. or its affiliates. As an Amazon Associate I earn from qualifying purchases.