Visiting a Hudson Valley distillery is a highlight of any trip there.  Take a tour and learn how corn is turned into bourbon, visit a one-room distillery and see the machinery used to make vodka from apples, or just sample a few locally distilled spirits in a fun tasting.  And, of course, you can take home some local brandy as a souvenir from your outing. 
Here are some top distilleries in the Hudson Valley. 
No time to discover the best distillery Hudson Valley now?  Pin It and save it for later: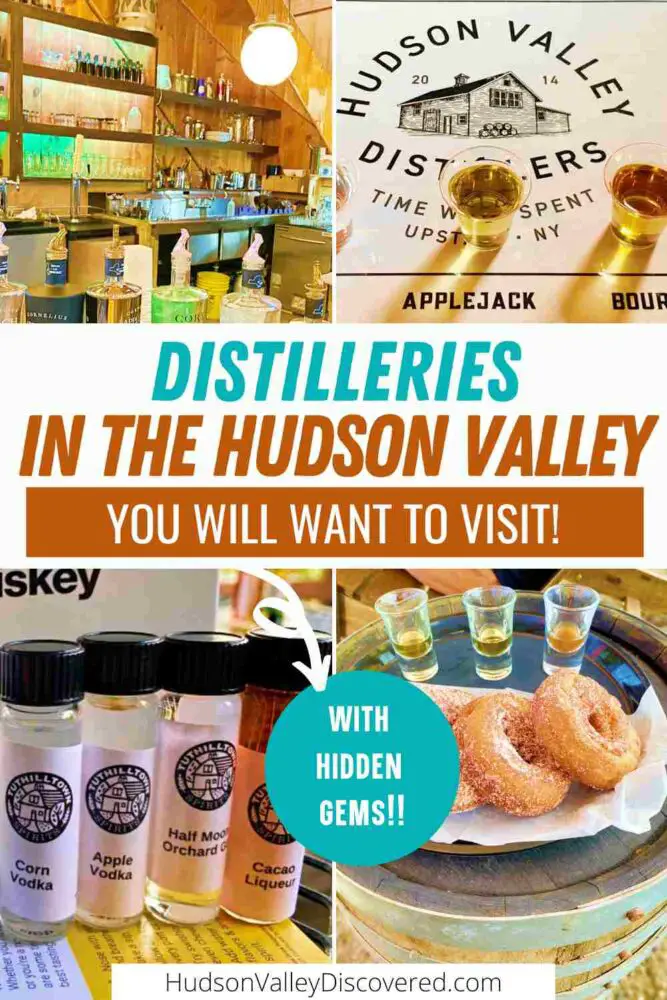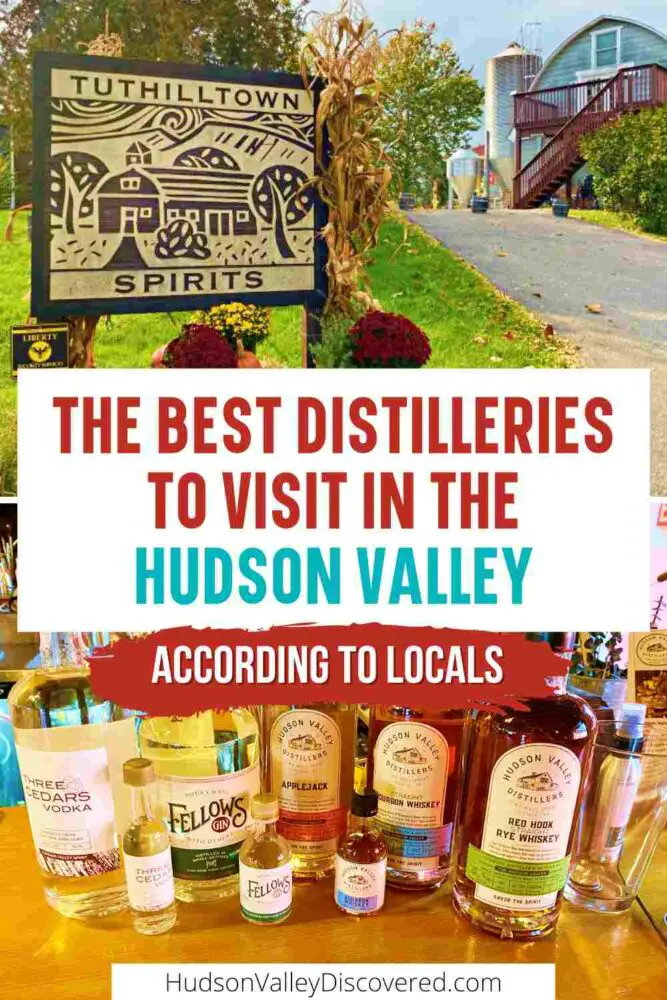 Please note this post may contain affiliate links, which means we may receive a commission, at zero cost to you, if you make a purchase through a link. Please see our full Disclosure for more information. If you have any questions, please contact me.
Skip straight to:
The Best Distilleries Hudson Valley, NY 
Discover the best local distilleries by taking a self-guided Hudson Valley distillery tour using this guide. I am constantly adding to this list – but not every distiller I visit makes it on to this list – just my favorites. 
I recommend combining a visit to some distillers with a stop (or two or three) at cideries and/ or wineries as well. 
Hudson Valley Distillers
This is super cute from the outside.  From the parking lot, it's a short walk through an arch and down a landscaped path to a red barn.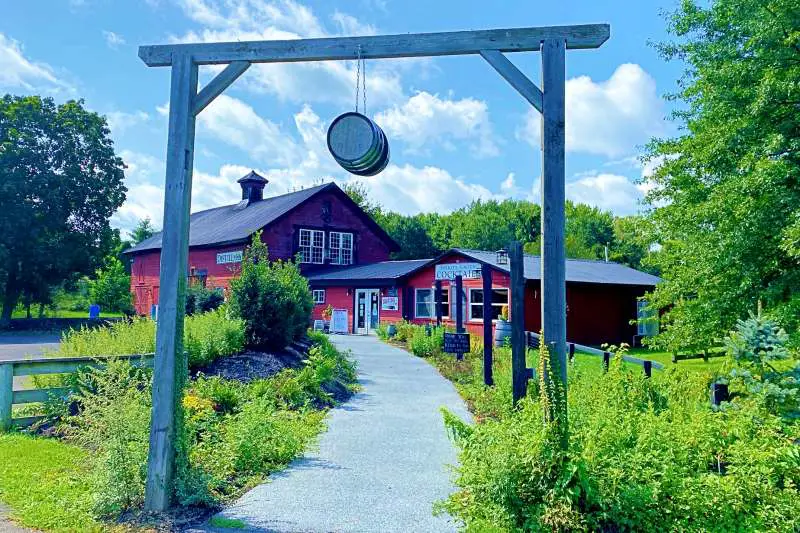 Out the back is a large garden/ field with chairs and tables scattered around, so there is plenty of space.  Further out back is a field, so it has a very rural feel. 
Inside there is lots of raw wood and the bar area is nice, but it's not super atmospheric.  Outside is definitely nicer.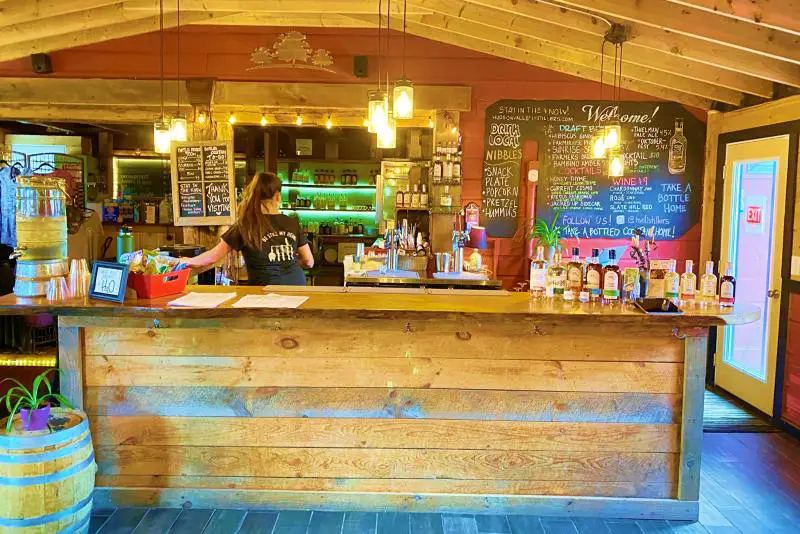 The staff were very friendly and helpful when I visited, and the server was happy to provide information about spirit in the tasting. 
The tasting is $5 for five spirits (1/4 oz pours).  All of them are made from New York State ingredients. The tasting had a set menu – a vodka made from corn; a very fragrant gin made with lots of botanicals; an applejack made from local apples; a bourbon made with wheat and corn; and a rye whiskey harvested from their backyard.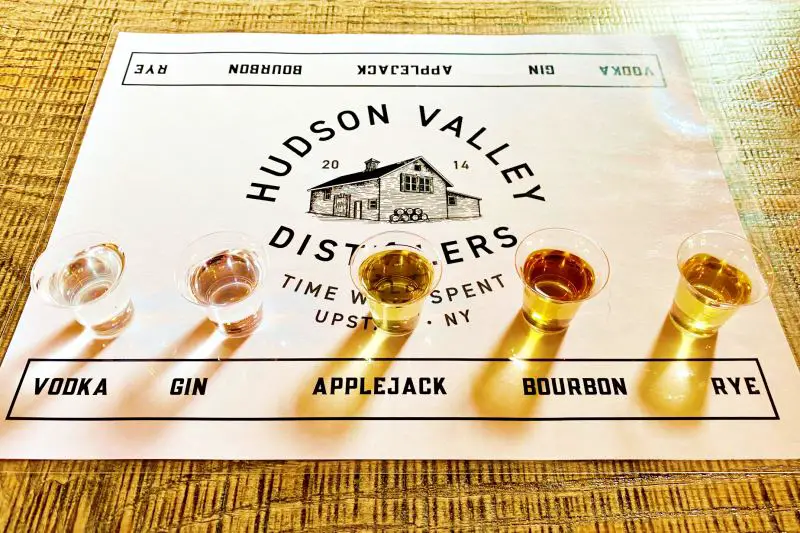 They also had a $10 flight of three cocktails, chosen from a menu of 4, plus the possibility of one of their 5 spirits with tonic or soda.  This was nicer, to be honest, as you get to taste their products in an actual drink.   
There is a small shop, but no pressure to buy.  There are no tours provided. 
There are board games available, so you could easily spend an afternoon hanging out and enjoying a drink. They also serve beer, cider and snacks.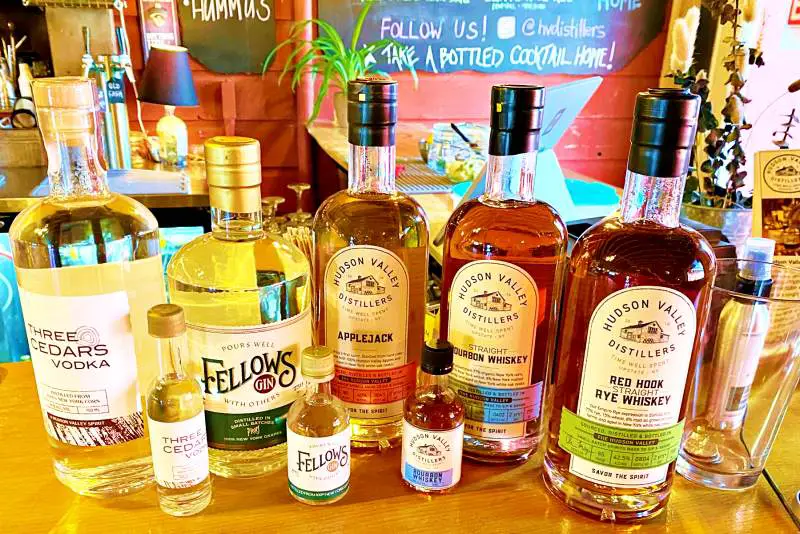 Open: 
Friday: 2:00pm – 8:00pm 
Saturday: 12:00pm – 7:00pm 
Sunday: 12:00pm – 6:00pm 
---
Harvest Spirits
When you first arrive here, the first thing you notice is not the distillery or apple orchard next door – it's the enormous parking lot.  The distillery is part of a farm that has a huge farm stand and restaurant, and the parking is mostly for those.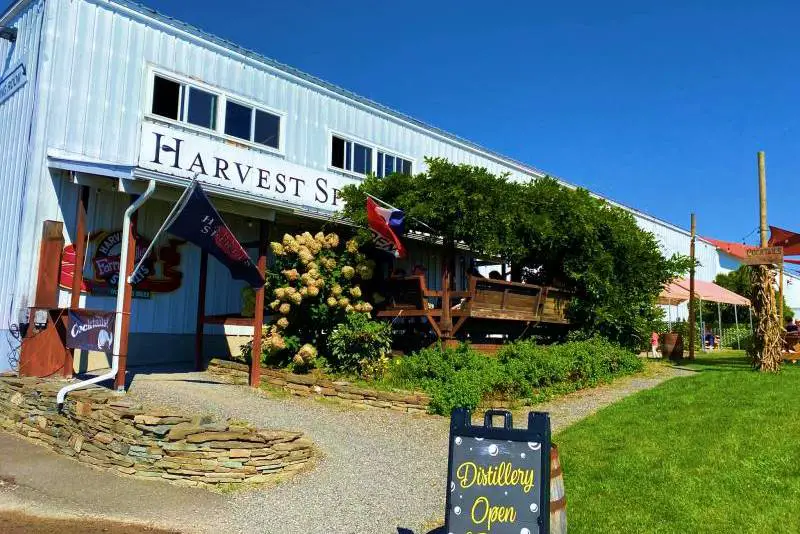 Outside the large metal building, they have made an attempt to create a pleasant space.  There are some picnic tables and Adirondack chairs and shade canopies set up outside in a small area between the metal building and the parking lot.  There's an apple orchard nearby, but unfortunately, it's not that pretty, and you mostly notice the parking lot.  It's much nicer to head inside the distillery instead.    
The distillery is a small one-room operation, and the tasting room and wooden bar is one half of the room.  The other half is the actual distilling machinery and crates of spirits.  I really liked having the tasting inside the actual distillery. There are several high-top tables and stools where you can sit and enjoy the tasting.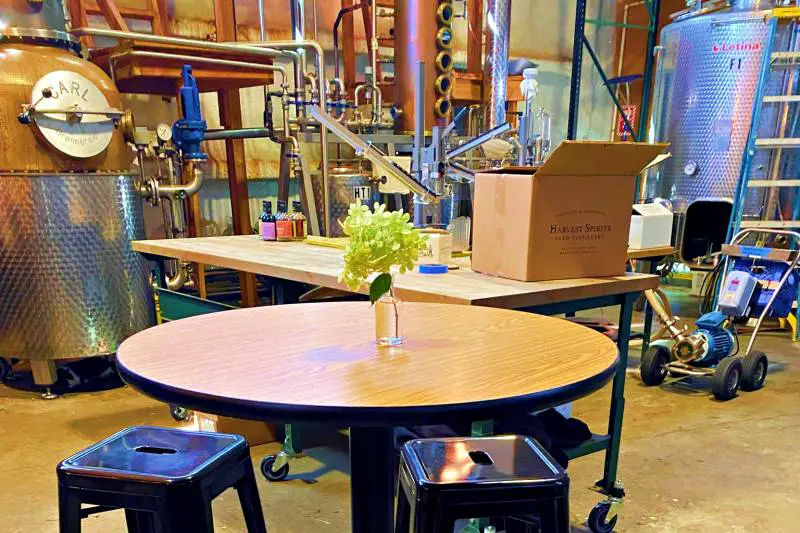 The tasting was 3 small shots ($1 each) of your choice from their selection of 8 liquors including apple vodka, applejack, pear brandy and rye whiskey.  
Information was pretty minimal.  They were pretty busy when I went, but gave me a pamphlet with a (limited) description of each spirit when I asked for some information.  The samples were served in shot glasses on a brown plastic tray – not great presentation.   
However, they had great apple cider donuts next door and a BBQ restaurant, so you could make a whole meal (or snack of it).  They also had a limited selection of cocktails (not tasting samples) made from their spirits.  Again, I liked this, as you got to taste a real drink, rather than just straight shots.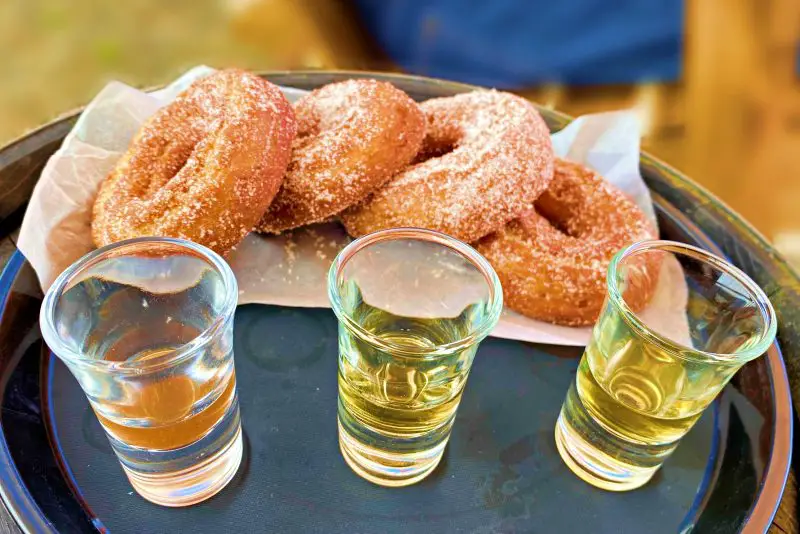 Although this wasn't the most picturesque place, I loved that it was inside the actual distillery, they had an interesting selection of spirits, and they are really good.  I left with a bottle of vodka, applejack and pear brandy!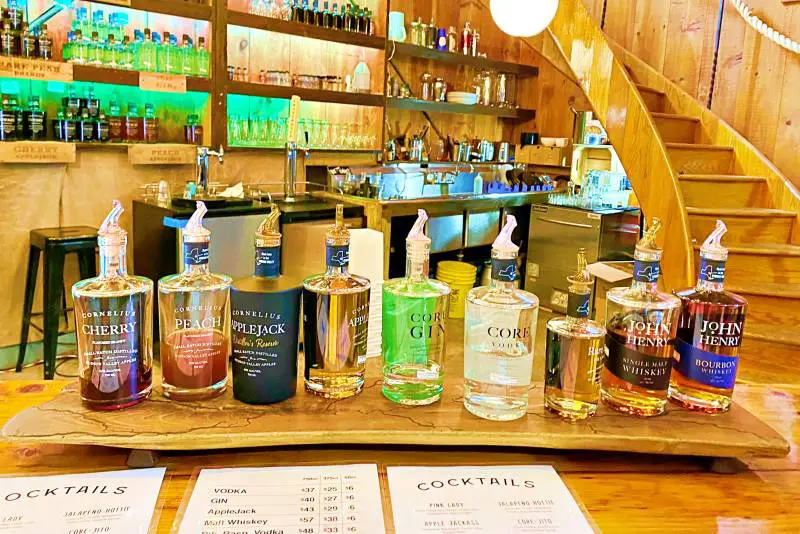 Open: Daily 11:00am – 5:00pm 
---
Tuthilltown Spirits Distillery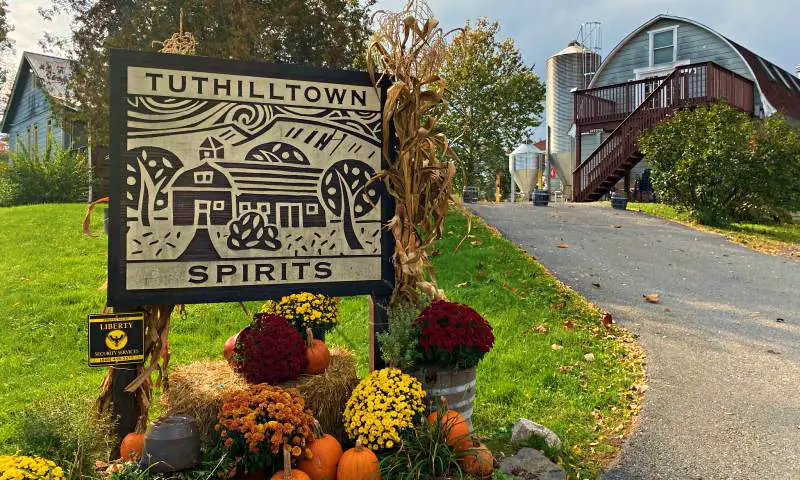 The name here can be confusing, because the main product they sell is called Hudson Valley Whiskey.  A couple of years ago, they rebranded and their label changed.  They now use the fonts and colors of the NYC subway system.  I personally prefer the old labels, but won't hold that against them. 
There are multiple buildings scattered around the complex, housing the actual distillery, storage sheds, and their welcome center.  There is a small lake with picnic tables around it, a large open-sided shelter with more tables if you need shelter from the rain or sun, and even a food truck.  The welcome center has a large covered porch with tables.   
They used to have tours of the distillery, and hope to again, but not until they feel it's safe to do so.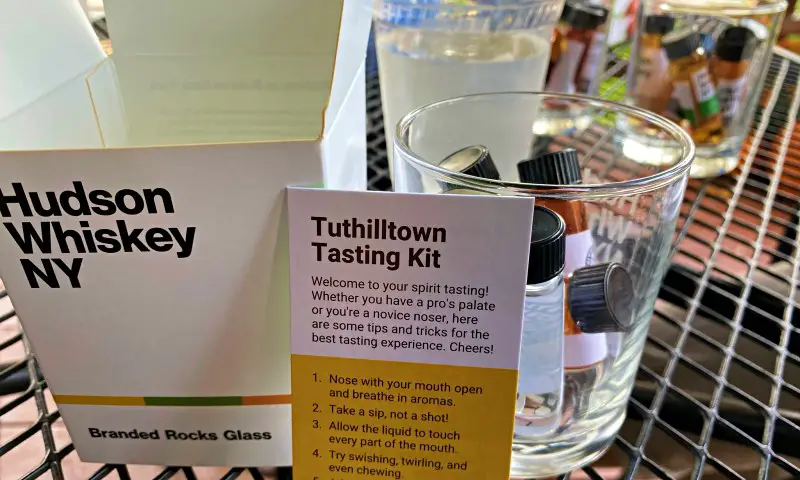 They used to have tours of the distillery, and hope to again, but not until they feel it's safe to do so. 
They have really adapted their tasting to the times, and I love it. It's a 'self-guided' tasting.  You order online on your cell phone (once connected to their WiFi) or from a server.  It's $12 for five 1.5-ounce samples.  You choose any five spirits from their selection of 11, which includes dark spirits like whiskey and bourbon, white spirits like vodka and gin, and chocolate and coffee liqueurs.   
They bring your selection to your table in tiny vials, with a large whiskey glass to drink them in, which you get to keep.  There's a small card in the box with tasting tips plus a QR code to scan.  When you do, you can see the tasting descriptions in the order suggested for tasting.   
Cocktails are also available if you'd prefer to skip the tasting (or decide to linger over your favorite liquor afterwards).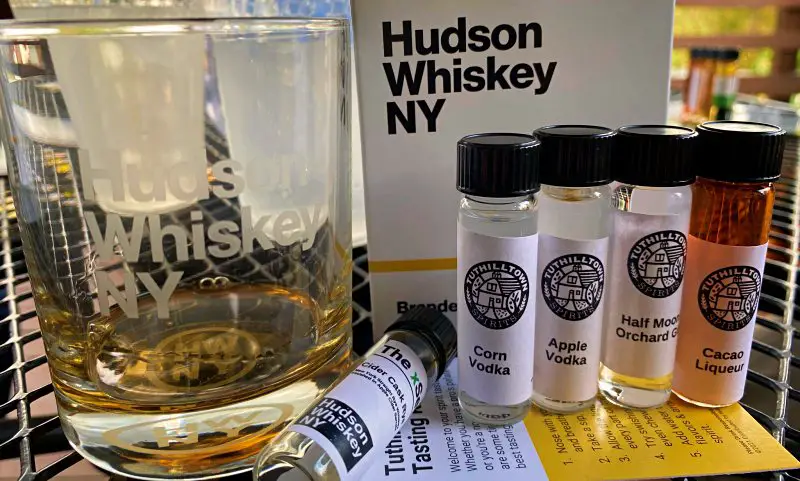 This place is the real deal – a real working distillery, but one also well-set up for visitors.  I loved the little vials, the self-guided descriptions, the location, and the overall aesthetic.  Plus, their vodka is one of my all-time favorites! 
OPEN: Daily 12:00PM – 6:00PM
---
Distilleries Hudson Valley Map 
The map includes all the best distillers in Hudson Valley as well as wineries and cideries. 
---
Enjoy the spirits! 
Do you have any other favorite distilleries in the Hudson Valley?  I'd love to hear about them.  Contact me and let me know. 
If you liked this post, please share the love and Pin It to your Hudson Valley or Distilleries boards!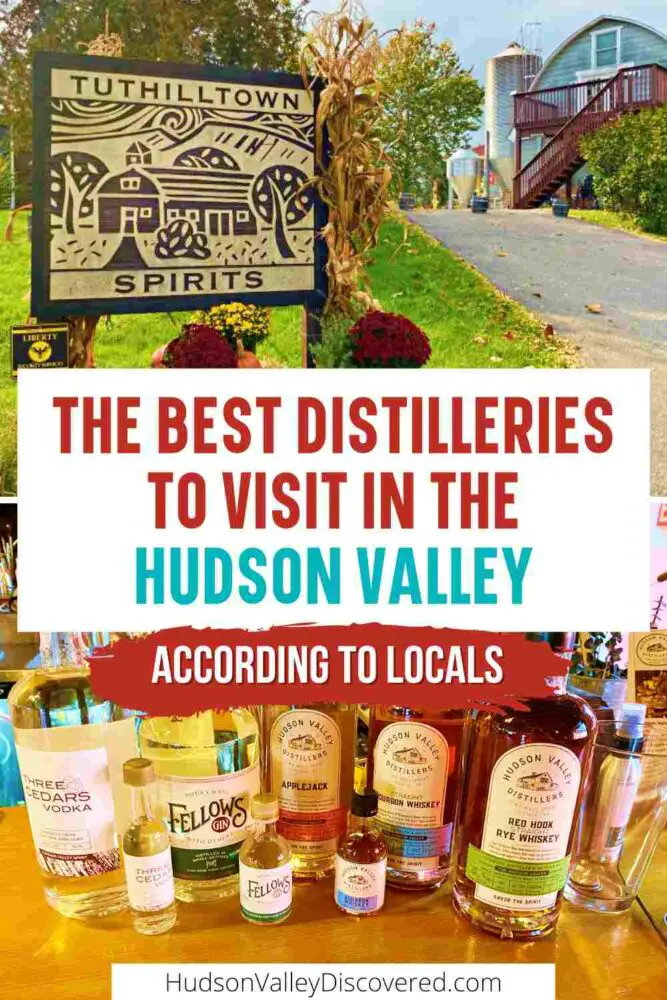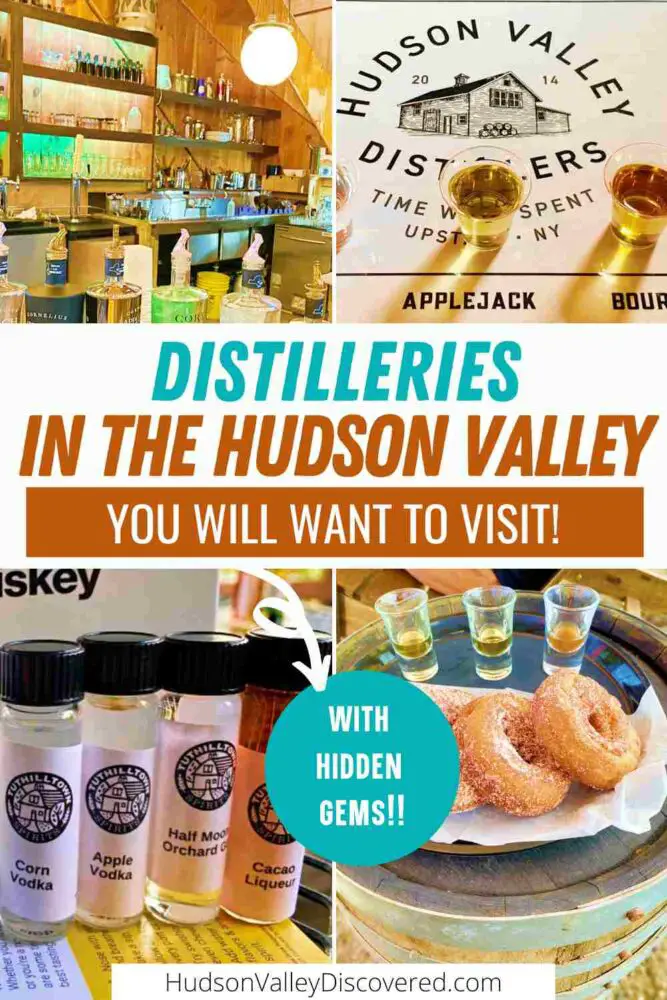 If you like discovering the best distillers in the Hudson Valley has, you might also like: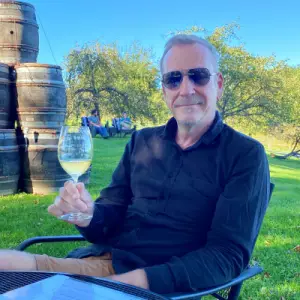 Ian James is a Hudson Valley local. He's been to 82 countries and all 7 continents, but there is truly no place like home and he loves to spend weekends and staycations continuing to discover all that the Hudson Valley has to offer.
---
Hudson Valley Discovered is a participant in the Amazon.com Services LLC Associates Program, an affiliate advertising program designed to provide a means for sites to earn advertising fees by advertising and linking to amazon.com. Amazon and the Amazon logo are trademarks of Amazon.com, Inc. or its affiliates. As an Amazon Associate I earn from qualifying purchases.