Apple orchards abound in the Hudson Valley.  Which makes it the perfect place for apple picking – and tasting cider!  There are loads of cider houses / cideries in the valley and visiting them to discover sorts of Hudson Valley cider is a great way to spend a weekend. 
No time to discover the best cideries Hudson Valley, NY now?  Pin It and save it for later: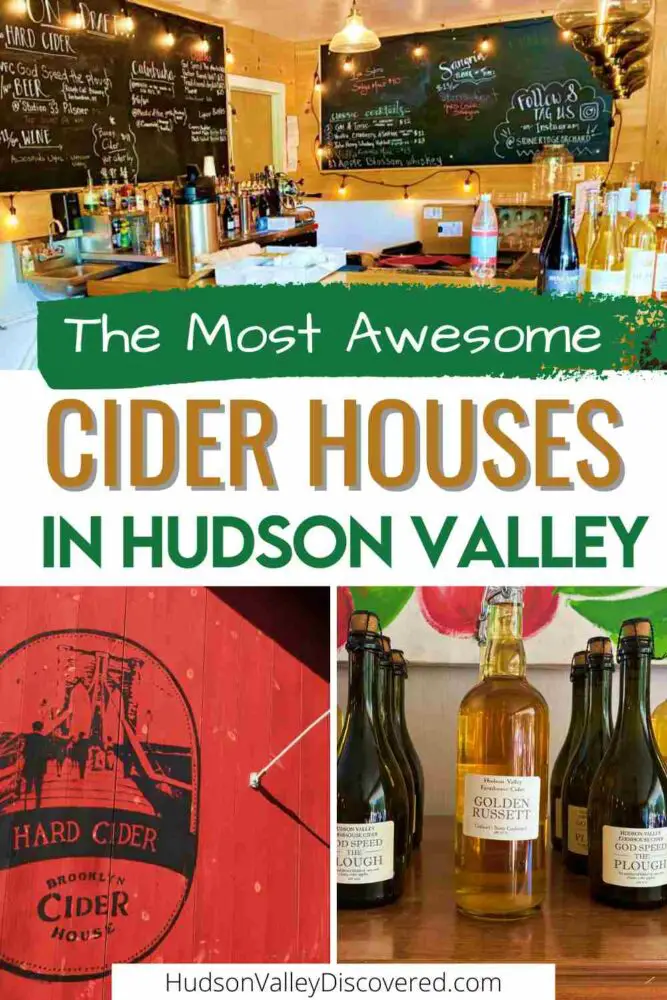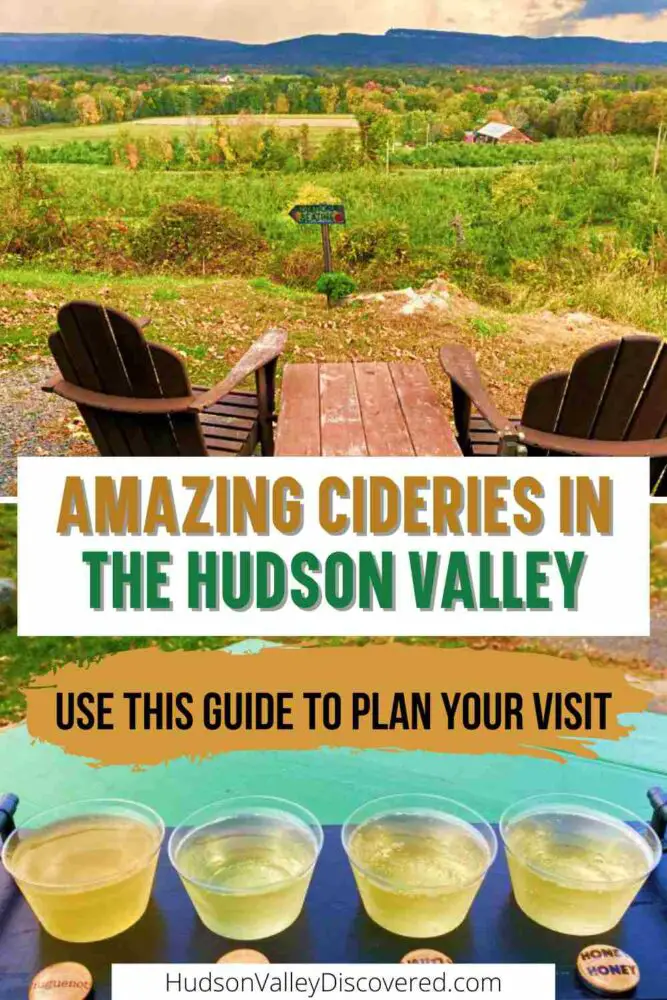 Please note this post may contain affiliate links, which means we may receive a commission, at zero cost to you, if you make a purchase through a link. Please see our full Disclosure for more information. If you have any questions, please contact me.
Skip straight to:
---
The Best Cideries Hudson Valley, NY 
Take a self-guided tour using this guide and discover freshly-made Hudson Valley farmhouse cider using this list and map. I am always adding to the cider houses described here – but not every cidery I visit makes it on to this list – just my favorites. 
Stone Ridge Orchards
Also called Breezy Hill Orchard, this place is the real deal.  They serve wood-fire pizza and have a small farm stand near the entrance, orchards where you can pick your own apples, a large field where they have music festivals on occasion, and a cidery.  They even have a few alpacas. 
If you're coming for the cider, drive along the dirt road around the back and that's where you'll find the cider house.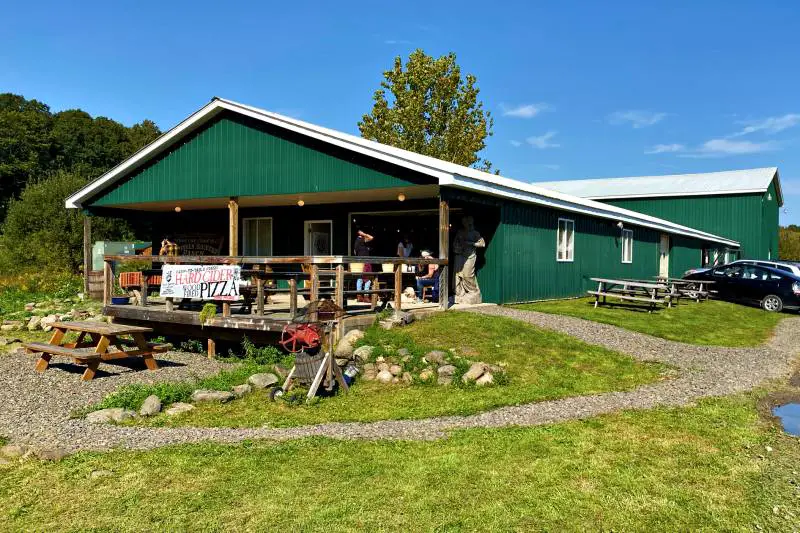 Set in a large green metal building, there's a small indoor section and bar, as well as a porch with several tables.  There are also picnic tables scattered around the nearby field, though there isn't much shade there.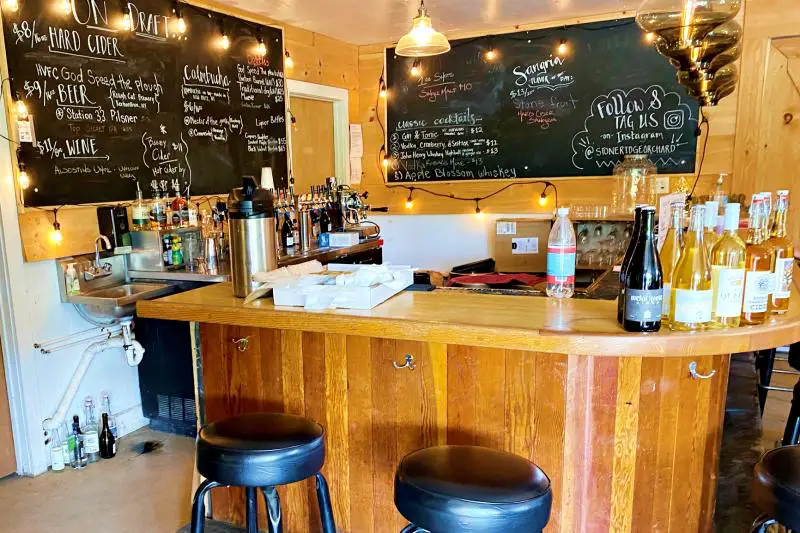 The tasting is $15 for 4 reasonably sized glasses.  When I was there, there was a cider sangria infused with stone fruits; a bourbon-barrel aged cider; a very dry cider made from Golden Russets; and a bubbly Pet Nat.  They were served in a long palette with holes in it that supported the glasses and was easy to carry to your table.   
The server was very friendly and took her time to explain about each cider as she poured it.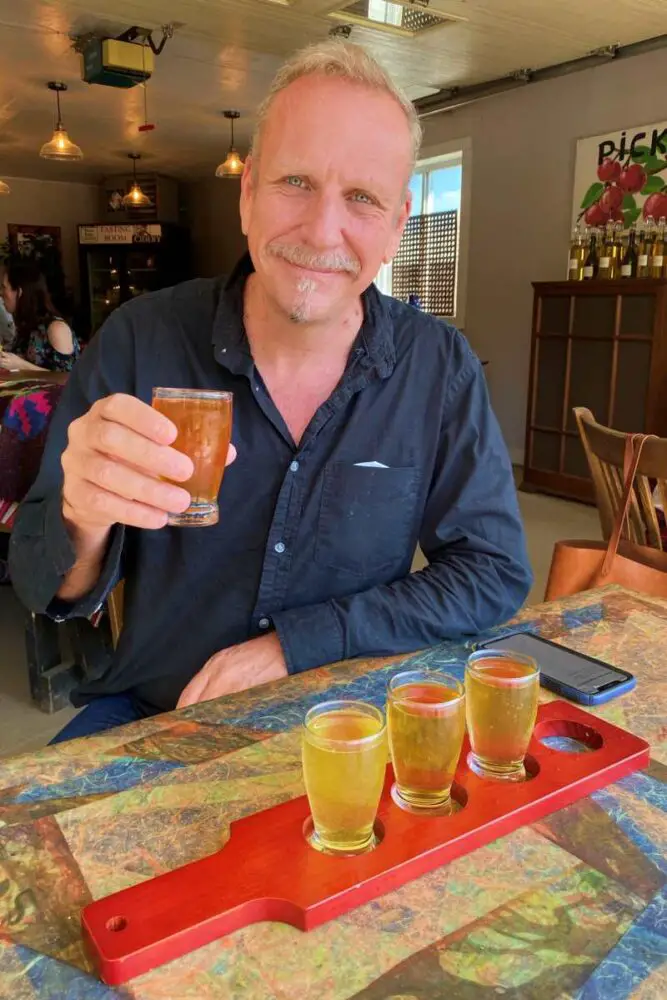 The place isn't fancy, but seemed authentic and it was nice to really feel like you were on an apple farm.  Cider by the glass or bottle as well as a couple of local beers and wines were also available. 
You could easily make an afternoon of it, with pizza and cider, and go apple picking before or after.    
OPEN: Friday – Sunday 12:00PM – 6:00PM 
---
Kettleborough Cider House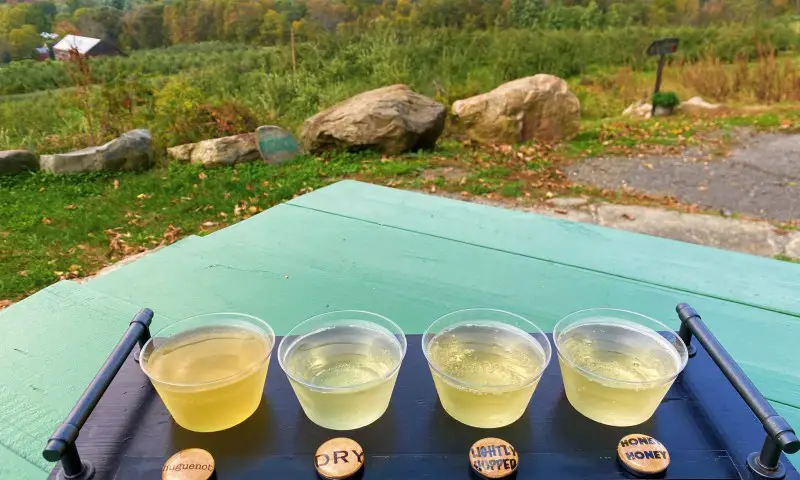 I went here to try a cider flight, but stayed for the view.  Honestly, this has one of my favorite views in the Hudson Valley!  It's on the edge of a ridge, with orchards and farms below and Mohonk and the Shawangunk Mountains behind them. 
There is a functional metal shed and inside a small area with a sales area.  You can see some vats and machinery, so it's clear this is a functioning cidery. 
Outside are several chairs and picnic tables, all with stunning views.  You can also play beanbag toss.  Nearby is a farm stand, where you can buy donuts and popcorn.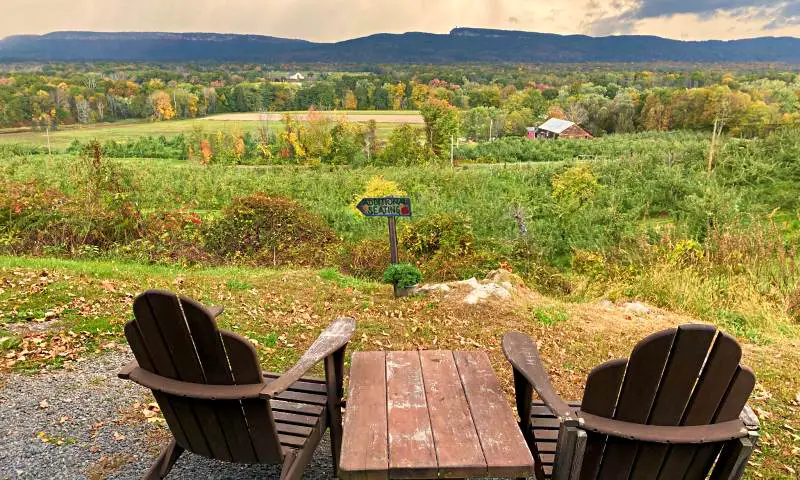 You can get a flight of four ciders for $14.  You can choose any four from their range of eight small-batch ciders, or they are happy to suggest four for you.  They are served in smallish glasses, on a tray and each has a cute magnet in front labeling them.  You can also buy glasses of cider, a few types of wines and one beer. 
I love this place.  It's not super sophisticated, but it's low key, friendly (and dog-friendly), and has views to die for!   
OPEN: Weekends 12:00PM – 5:30PM 
---
Brooklyn Cider House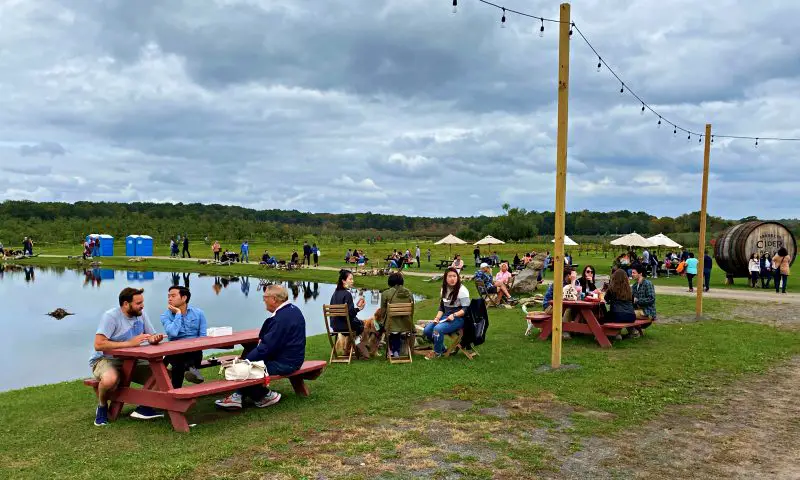 I went here for the first time a few years ago when they had just opened and it has REALLY grown a lot since then. 
You start by walking through a photogenic large red barn building.  Inside, there is a huge shop area and inside tasting bar, though they don't have inside tastings in their busy season.   
In the busy season (I visited in early fall), the tasting is set up in a tent outside.  They serve two different ciders in small plastic cups, standing up.  It's not much of an experience, but does let you taste two different drinks.   
There is a large apple orchard and you can pick your own apples.  Then there is a large, open-sided building with long shared tables and benches.  You can order hand-made artisanal wood-fired pizza and burgers. 
You can buy cans of their cider or some ciders on tap.  They also serve some beers and wines.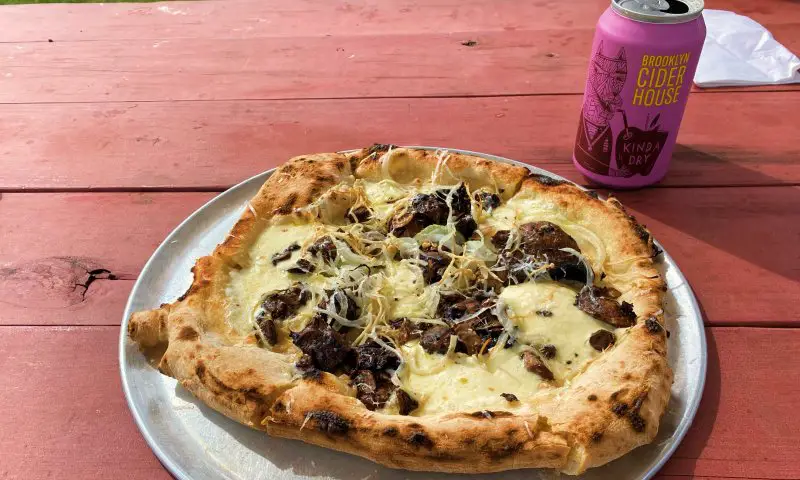 Around the 'shed' are picnic tables, and there is a large lake nearby.  There are even a couple of picnic tables between apple trees.  There are also several fire pits around the edge of the lake and bundles of wood you can buy.  It's very picturesque, albeit quite crowded.   
This is a lovely place.  It's not in Brooklyn, despite the name, but definitely attracts a hip Brooklyn crowd.   It's very kid- and dog-friendly.  The tasting was pretty lame, but it's overall a great place to hang out and enjoy a cider, pizza and pick your own apples.   
OPEN: April 2 – November 7 
---
Angry Orchard Cidery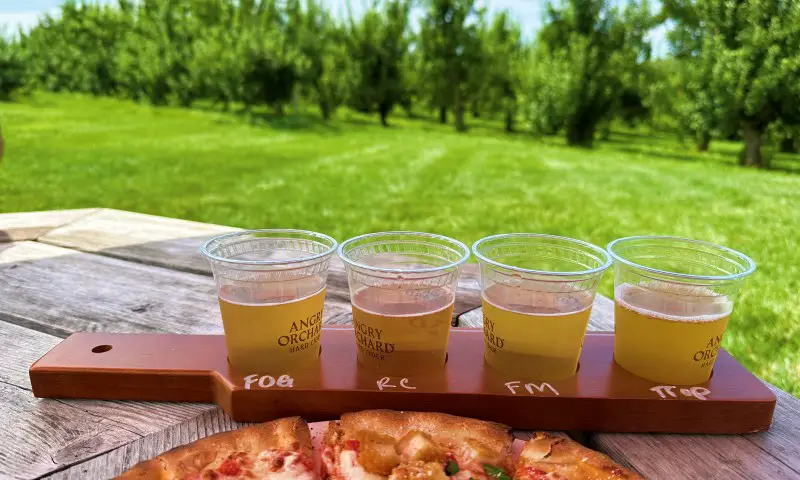 Angry Orchard is a nationally distributed brand with large commercial growing and processing. However, that all happens at other locations in Pennsylvania.
The Angry Orchard location in the Hudson Valley is a much smaller operation where they experiment with new ciders. So you can taste and buy ciders here that you can't buy anywhere else.
That being said, it is obviously a commercial, well-organized operation.
There are four tastings of Angry Orchard hard cider offered. One in the Barrel Room, where there is a tour of the facility where they make the cider, plus three tastings.
The second is a tour of the orchard, where you carry a canned cider into the orchard and listen to explanations about the trees and types of apples grown.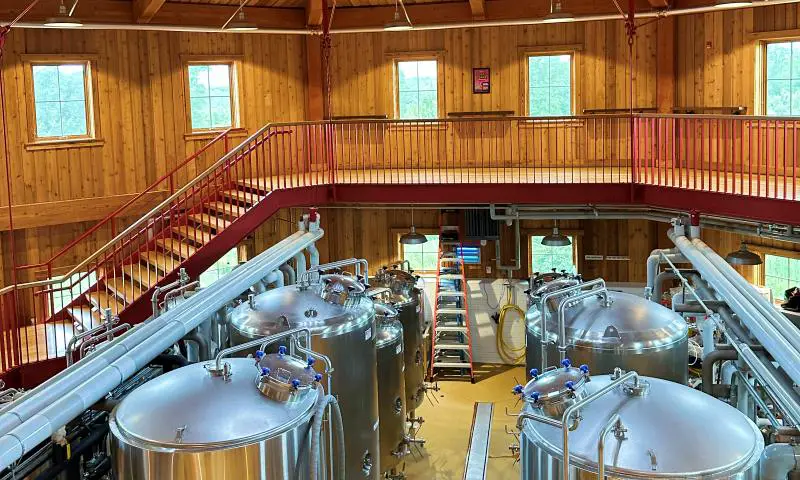 There is also the Stone Barn, where the tastings are accompanied by more detailed explanation about the ciders offered.
The fourth is the Tree House, where you can learn more about the treehouse along with the tasting.
If you don't want to take an official tasting tour, but want to try a few different kinds of Angry Orchard cider, you can also get a flight of four, chosen from a total selection of eight different Angry Orchard ciders at their bar. A full pour of any of these eight is also available.
There's indoor and outdoor seating, so on a nice day, you can sit at a picnic table surrounded by the orchard and enjoy cider and wood-fired pizza. They also have live music at times.
Although this obviously a bigger commercial operation, it's well organized and the fact that you can sit surrounded by the apple trees is a bonus. Get there early to get a table outside and book tours/ tastings online in advance, as it's very popular.
OPEN: Year round. Thursday and Friday 2-8pm, Saturday 11am-8pm, Sunday 11am-6pm, and Monday 2-8pm.
---
Cideries Hudson Valley Map 
The map includes all the best cider houses in Hudson Valley as well as distilleries and cideries. 
---
Enjoy the cider! 
Do you have any other favorite cideries in NY Hudson Valley?  I'd love to hear about them.  Contact me and let me know.  
If you liked this post, please share the love and Pin It to your Hudson Valley board!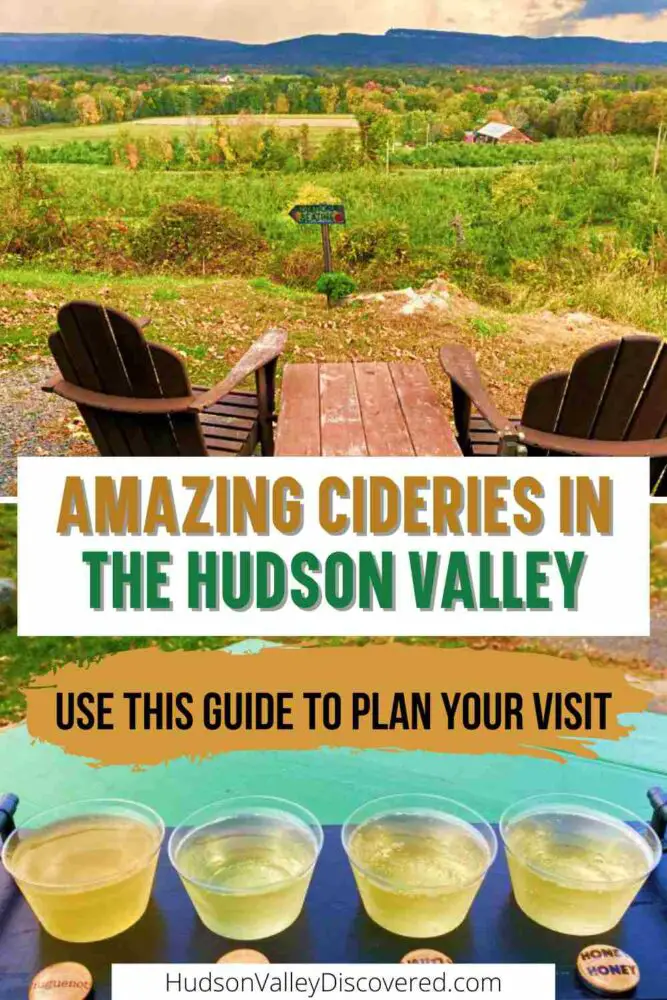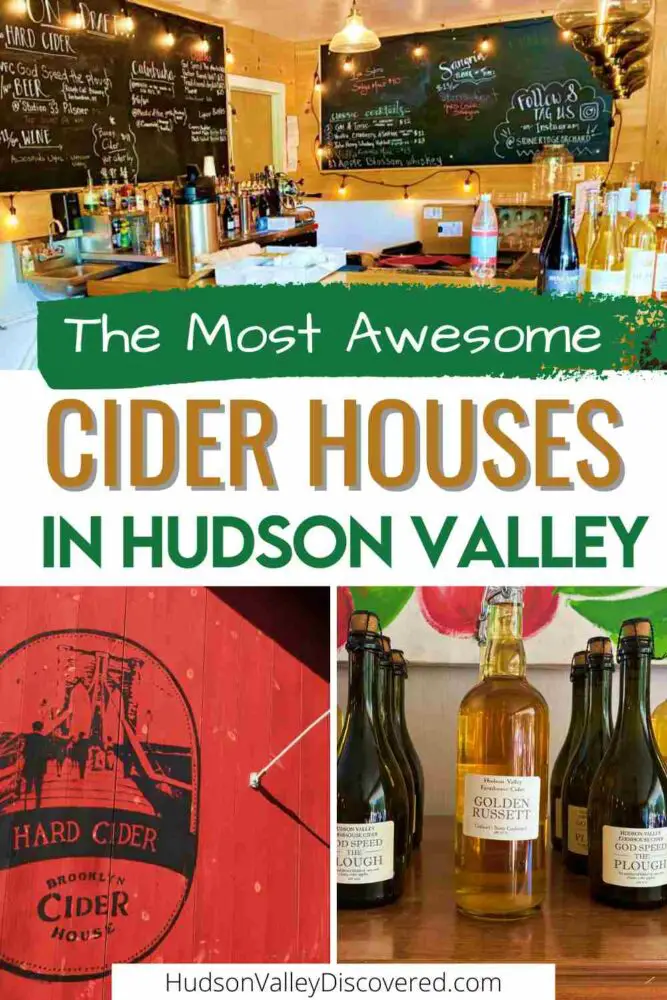 If you like discovering the best Hudson Valley cideries, you might also like: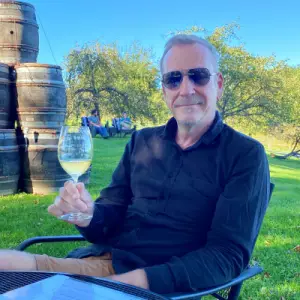 Ian James is a Hudson Valley local. He's been to 82 countries and all 7 continents, but there is truly no place like home and he loves to spend weekends and staycations continuing to discover all that the Hudson Valley has to offer.
---
Hudson Valley Discovered is a participant in the Amazon.com Services LLC Associates Program, an affiliate advertising program designed to provide a means for sites to earn advertising fees by advertising and linking to amazon.com. Amazon and the Amazon logo are trademarks of Amazon.com, Inc. or its affiliates. As an Amazon Associate I earn from qualifying purchases.