This trail is one of the few in the Hudson Valley that gives you direct access to the Hudson River.
Imagine sitting on a large boulder under the shade of a large pine tree with a small sandy beach below.  The tiny cove, half full of floating flowering water plants, sparkles in the sun as a sailing boat drifts slowly past in the distance.
This is Black Creek Preserve
No time to discover the Black Creek Preserve Trail?  Pin it and save it for later:
Please note this post may contain affiliate links, which means we may receive a commission, at zero cost to you, if you make a purchase through a link. Please see our full Disclosure for more information. If you have any questions, please contact me.
The Black Creek Preserve is a compact area of land right on the Hudson River in Esopus.  It is part of Scenic Hudson parks.  Scenic Hudson has bought up tracts of land and created well-marked and well-maintained trails through them that are free to access and use.  The Shaupeneak Ridge is nearby.
Black Creek Preserve Trail Details
Distance:

Yellow trail: 0.44 miles
Red loop 0.86 miles
Blue loop 0.56 miles

Elevation change: 374 feet
Total time: about 1.5 hours full loop; allow extra time to enjoy the river views
Difficulty: Easy
Trailhead: Black Creek Preserve parking lot just off Route 9W in Esopus. Note: There are no restrooms in the parking lot or along the trail.
Highlights: Suspension bridge; direct access to the Hudson River
Fee: Free
Open: year-round, sunrise to sunset
Dogs on a leash are allowed
Recommended footwear: This is a fairly easy trail, so hiking sandals or hiking shoes are fine.
Black Creek Trail Map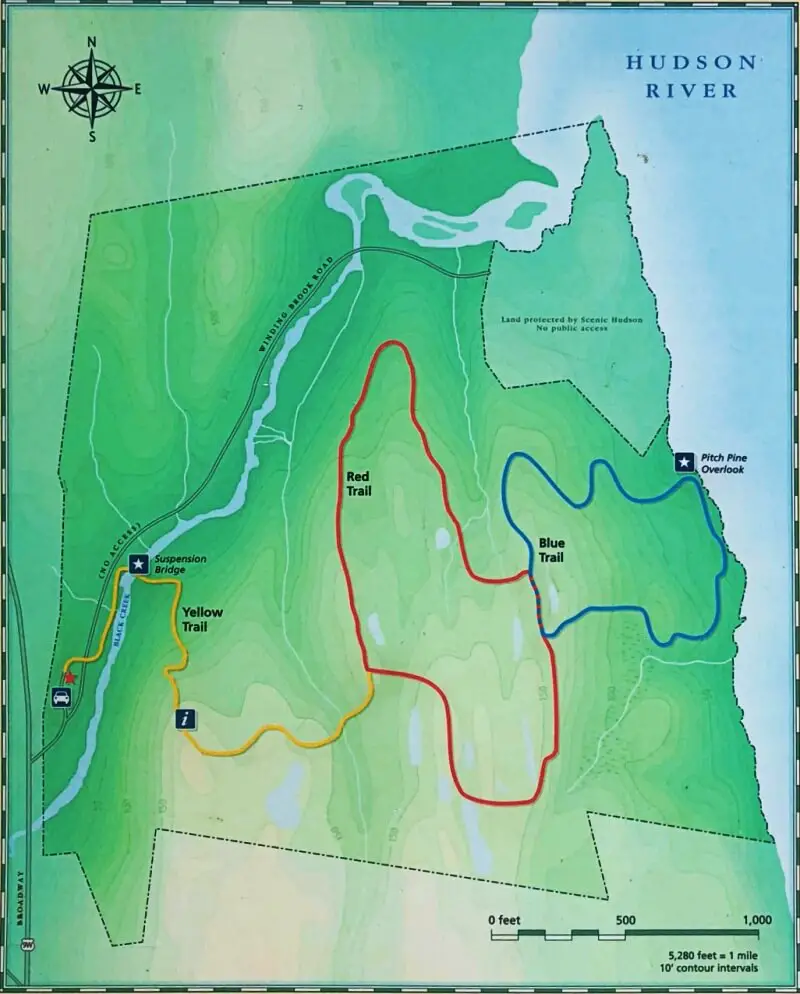 Black Creek Preserve Trail Description
There are three connecting trails.  The trails are well-marked by small colored circles fixed to trees.  The colors and the patterns that they make on the trees all mean something.  If you are new to hiking (and these trails are perfect for beginner hikers), I strongly recommend reading my Guide to Trail Markers.  You will also want to check out my guide to Hiking Etiquette 101 and my Hiking Guide for Beginners.
These hikes are short and not especially strenuous, but I also recommend making sure you have everything you need to for a day hike.
Yellow Trail
The yellow trail starts at the small parking lot (get there early to secure a spot as there is no overflow),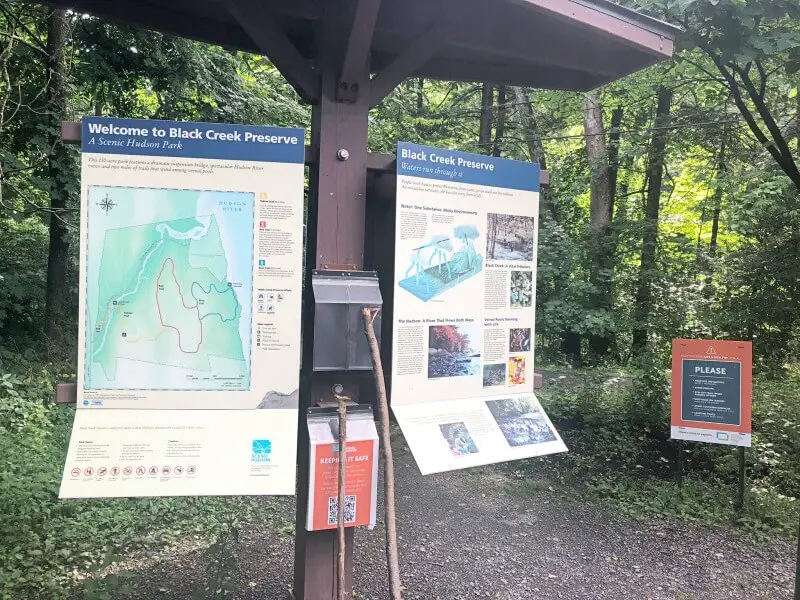 crosses a road and heads into the woods, alongside a creek.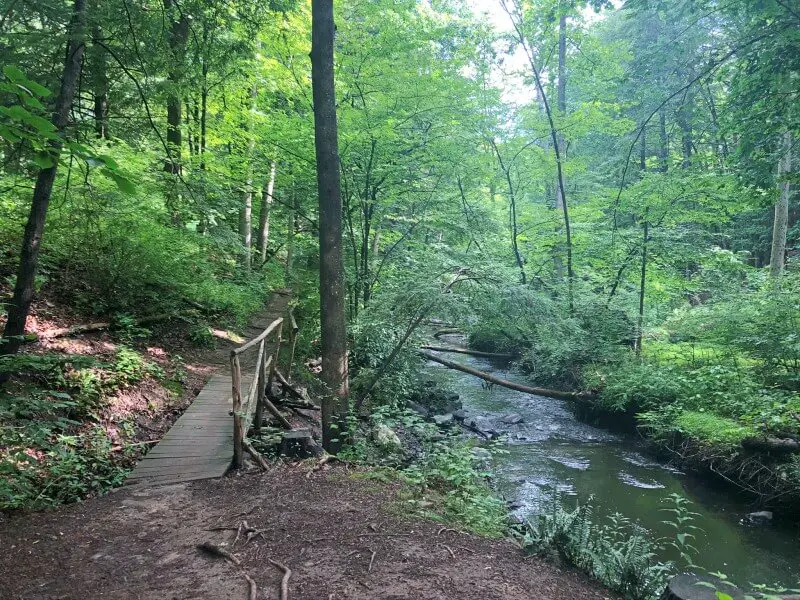 Soon after, it crosses a cool suspension bridge, which makes a great IG photo spot.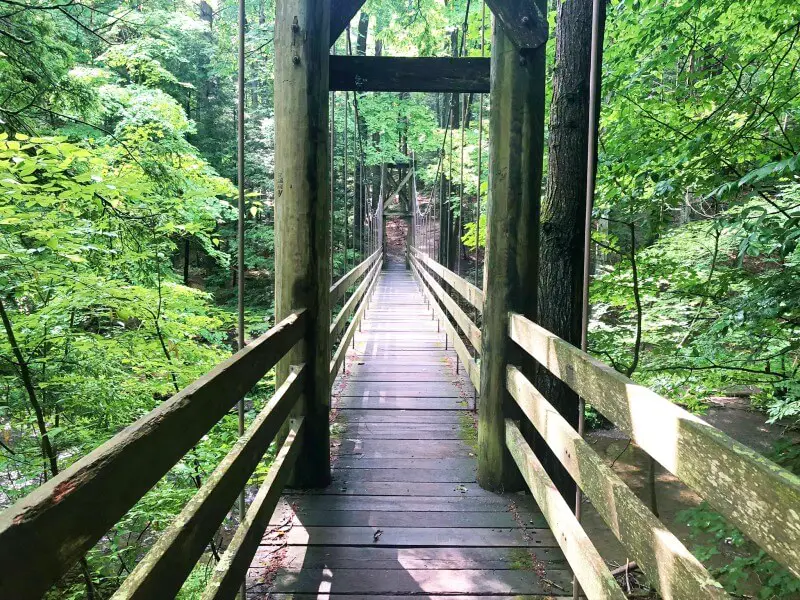 From there, the trail goes over a plank walkway then heads up a steep but short trail past hemlock trees.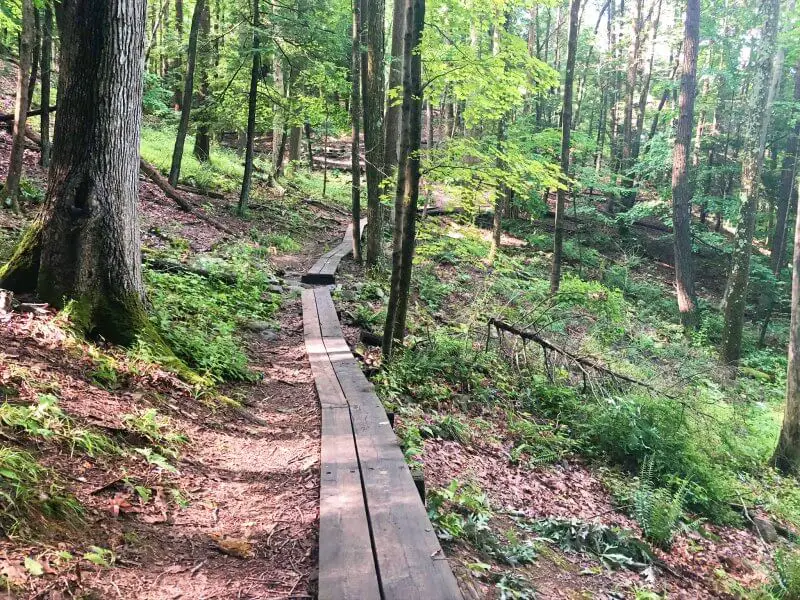 There is an information board at the top of the hill. 
Red Trail
The trail then proceeds through the woods and soon comes to the red (Vernal Pools) trail.
You can go either way, as it is a loop.  We went right and did the trail in a counter-clockwise direction. 
The trail is fairly flat, through woods and past vernal pools (which, full disclosure, I somehow managed to miss). There are some rocks, which can be slippery, so take care.  You may see frogs and salamanders.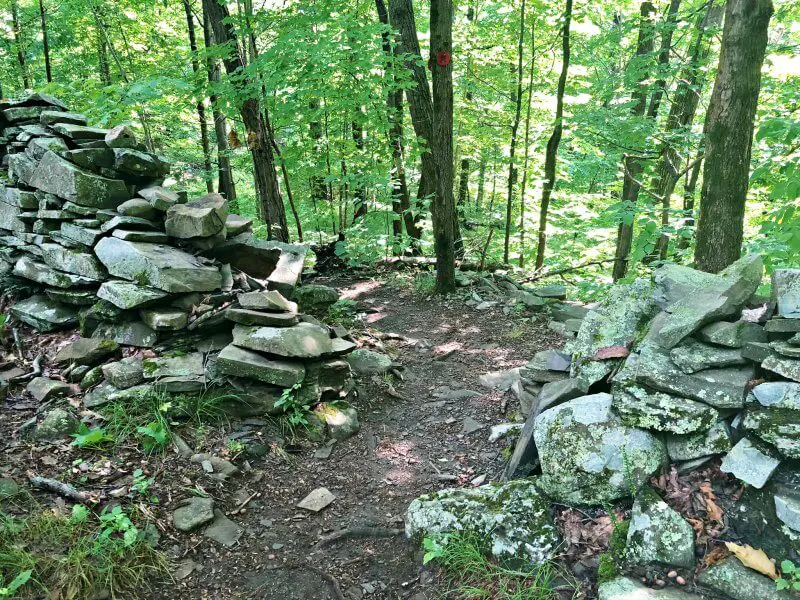 Blue Trail
Then you will come to a sign indicating that the Hudson River (Blue) Trail goes to the right.  There is a short section of the trail to the left that is shared by the red and blue trails (the Red/ Blue Crossover). If you take that, you can then go left to just complete the red loop or go right and do the blue loop in a counter clockwise direction.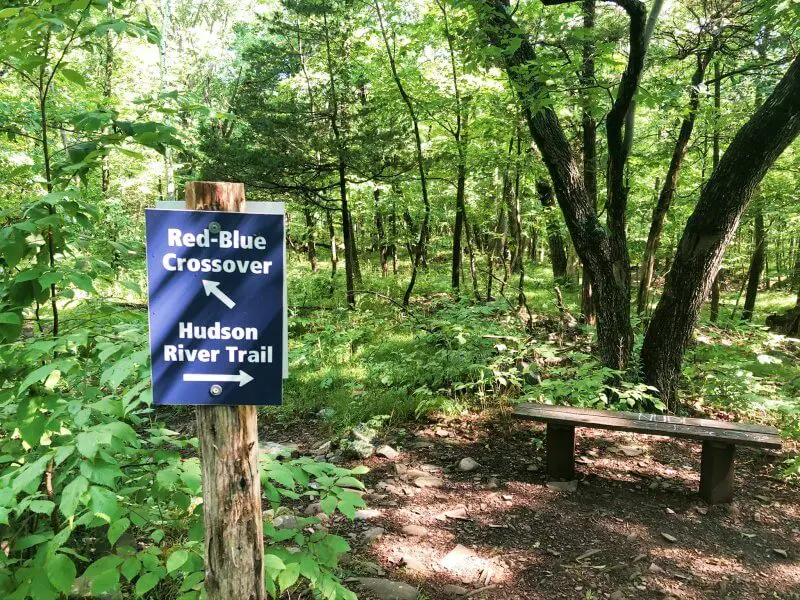 Taking the right turn and going on to the blue trail, you head towards the Hudson River.  After a short way, the trail heads downhill to the river. 
Hudson River Access
This is one of the very few trails in all of the Hudson River that actually goes to the edge of the Hudson River.  There are lovely views of the river.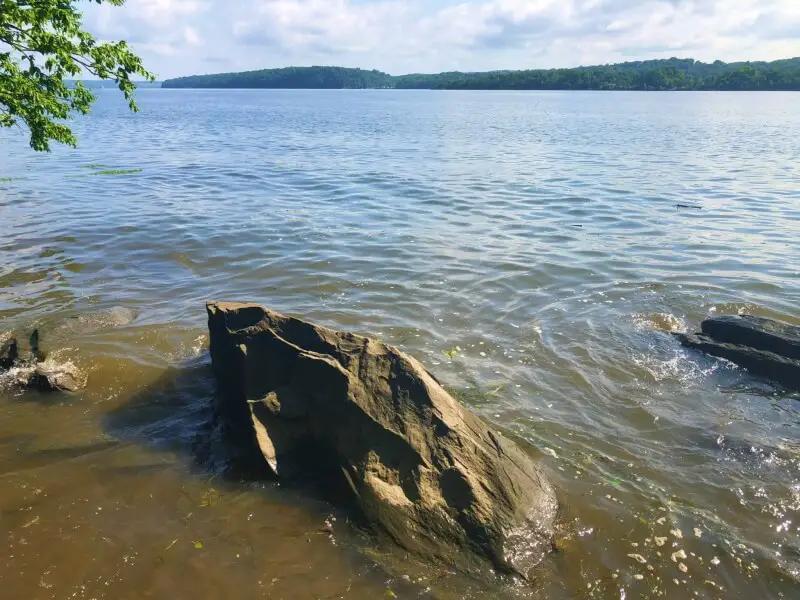 The trail proceeds along the water's edge for a short way and there are several places you can climb down to the water's edge and several benches.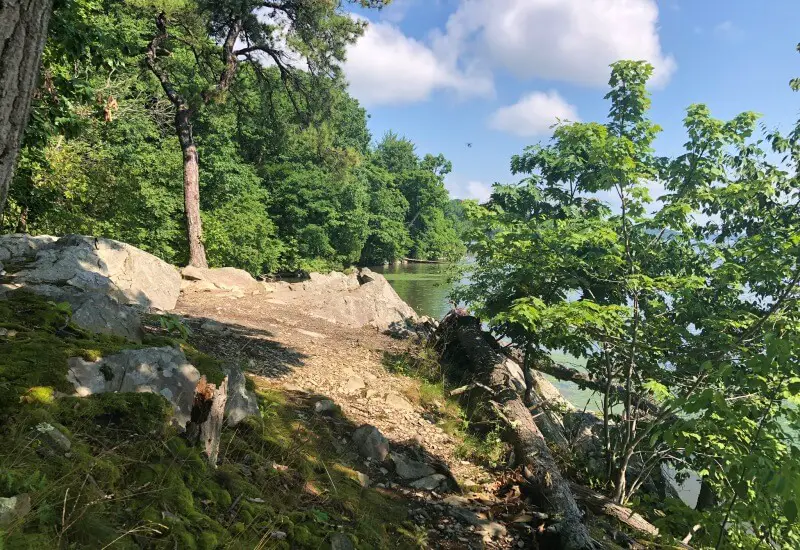 The last place is the Pitch Pine Overlook, with a beautiful pine tree framing the views.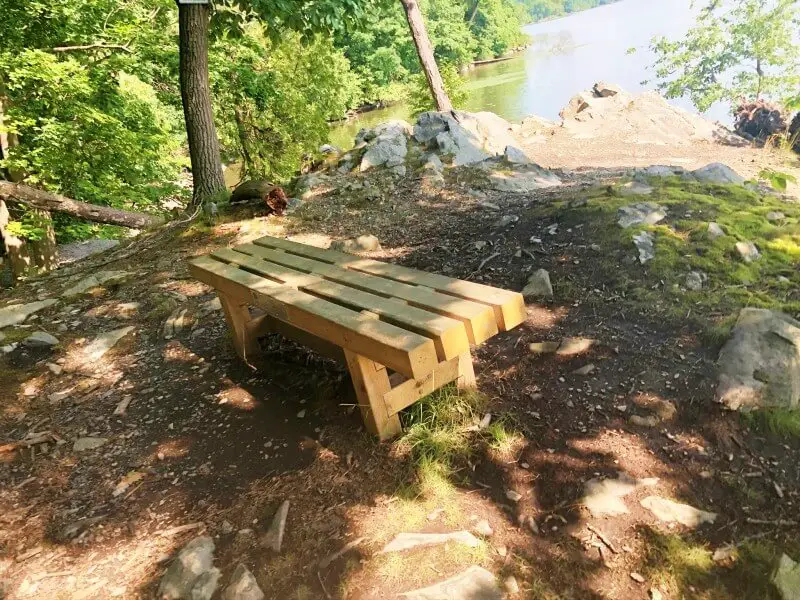 There is a small beach just below, though it is officially blocked off as private. There is no swimming in the river (and I actually saw a water snake, so you probably don't want to anyway).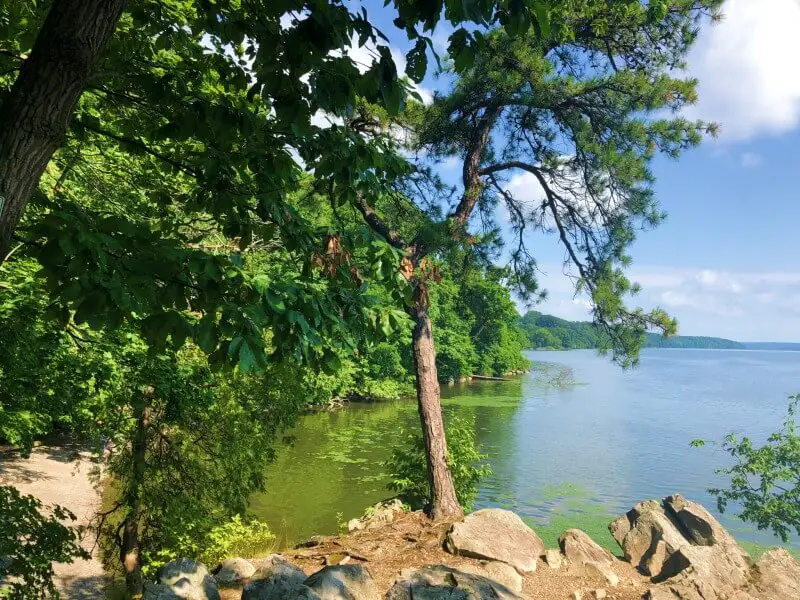 The return loop
From there, the trail heads back uphill and away from the river.  There is a bench at the top of the incline to help you catch your breath.  Then a fairly flat section back through the woods.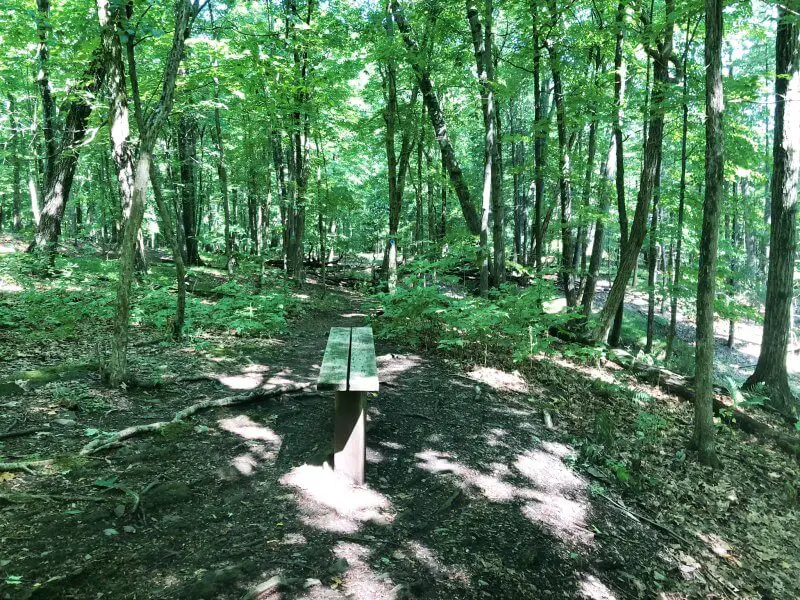 The trail has plenty of trail markers (learn how to read trail markers here).  The right turn to the red trail is easy to miss – the trail actually goes straight ahead, but if you notice that the trail markers are half blue/ half red, then this indicates you have gone too far and are on the short section shared by both trails and heading back the way you started. 
If you see THIS sign, then you are back on the first half of the red loop.  You don't want this.  Go back.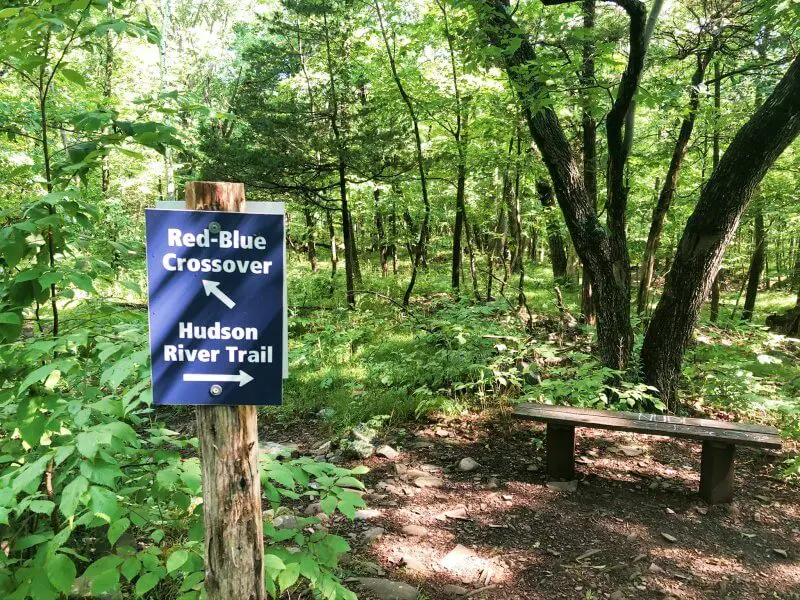 To avoid this, (and it's short, so not a huge drama if, like me, you do it), notice that the blue markers change to red.  The red trail branches of the right.  This takes you on the other half of the red loop.  It will soon end back at the yellow trail, which is an out-and-in trail, so you will need to take this back to the suspension bridge and the parking lot.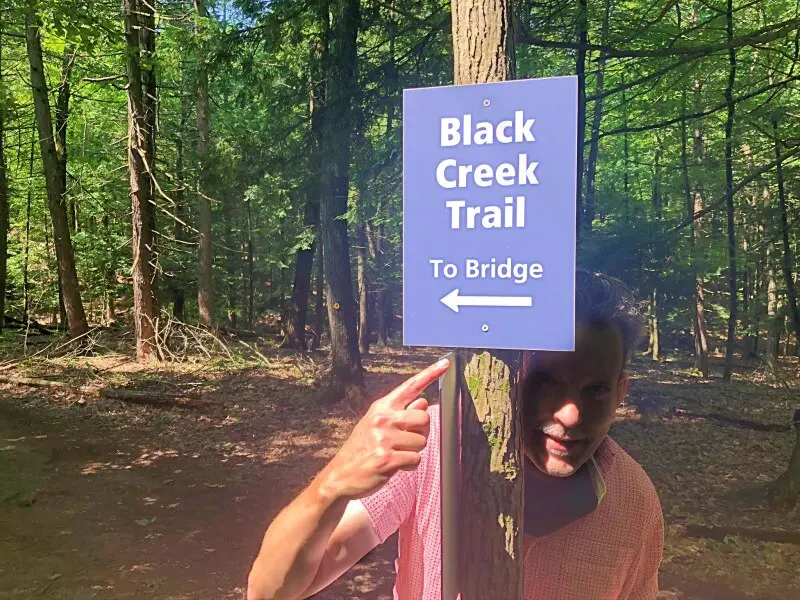 ---
Travel Insurance for Hiking in Hudson Valley
If you are traveling to the Hudson Valley from elsewhere in the U.S., check to see if your health insurance covers you.  If not, or if you are traveling from abroad, you will definitely want to get travel insurance.  If you are not sure what it is all about, read my Guide to Buying Travel Insurance. 
A good insurance option is Travelex.  You can compare Travel Insurance plans here or get a quote right now:
---
Happy hiking!
Do you have any favorite Hudson valley hikes you'd like to share? I'd love to hear about them. Comment below. 
If you liked this post, Pin it to your Hikes and Hudson Valley boards!
If you are visiting the Hudson Valley in the fall, be sure to read Top Ten Things to Do in the Hudson Valley in the Fall.
There are more great hikes to do in the Hudson Valley: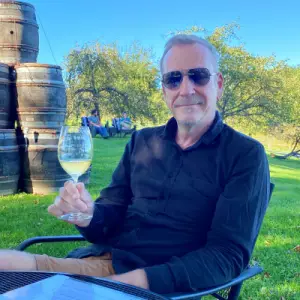 Ian James is a Hudson Valley local. He's been to 82 countries and all 7 continents, but there is truly no place like home and he loves to spend weekends and staycations continuing to discover all that the Hudson Valley has to offer.
---
Hudson Valley Discovered is a participant in the Amazon.com Services LLC Associates Program, an affiliate advertising program designed to provide a means for sites to earn advertising fees by advertising and linking to amazon.com. Amazon and the Amazon logo are trademarks of Amazon.com, Inc. or its affiliates. As an Amazon Associate I earn from qualifying purchases.