There are several trails in Minnewaska State Park Preserve, but my favorite is the loop round Lake Minnewaska.  Along the way are a small swimming beach, sensational views, cliffs and panoramic views of the Hudson Valley.
No time right now to discover the Minnewaska Lake Loop Trail? Pin It and save it for later:
Please note this post may contain affiliate links, which means we may receive a commission, at zero cost to you, if you make a purchase through a link. Please see our full Disclosure for more information. If you have any questions, please contact me.
This is one of my favorite hikes in the Hudson Valley, especially in the spring and fall.  The loop around the lake is an easy walk with big rewards. 
In spring, hundreds of mountain laurel bushes are covered in lovely pink flowers and in the fall, the trees turn brilliant fall colors.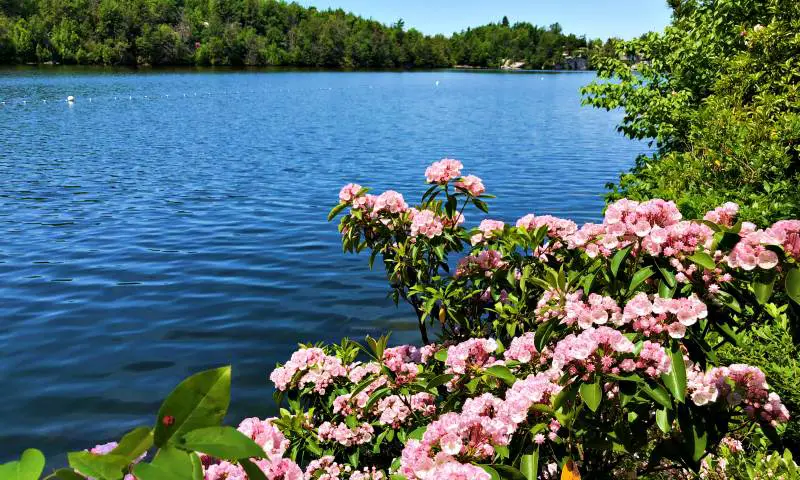 Minnewaska Lake Loop Trail Details
Distance: 1.9 miles/ 3 km loop
Elevation change: 259 feet/ 79 m
Time: 40 minutes
Difficulty: Easy
Trailhead: Minnewaska State Park Upper Awosting Lot
Highlights: Minnewaska Lake, cliffs, views of valley from the overlook
Fee: $10 per car
Open: 9:00am – sunset
Tips for Hiking Minnewaska Lake Loop
Get there early.  Minnewaska is extremely popular and although there is quite a lot of parking, it is often full by mid-morning.
Try to get a park spot in the upper parking lot as it is a bit of a walk (20 minutes – 0.9 miles/1.4 km – 289 feet/ 88 m elevation each way) from the lower parking lot. 
Although the trail is wide and not too strenuous, I recommend wearing good hiking footwear. Read my Guide To The Best Hiking Sandals and Guide To The Best Hiking Shoes for reviews and recommendations if you need some.
The hike is not long, but I still recommend taking a little water with you.
---
Minnewaska Lake Loop Hike Description
The hike starts at the Visitor Center, which is worth a quick stop for information about the park.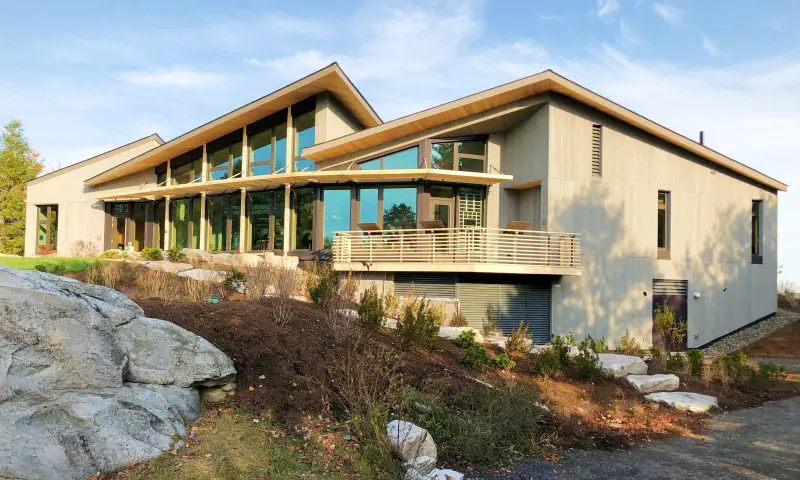 Going in a counter clockwise direction, you first encounter a small beach about 0.1 miles/ 160m along, where you can swim in summer.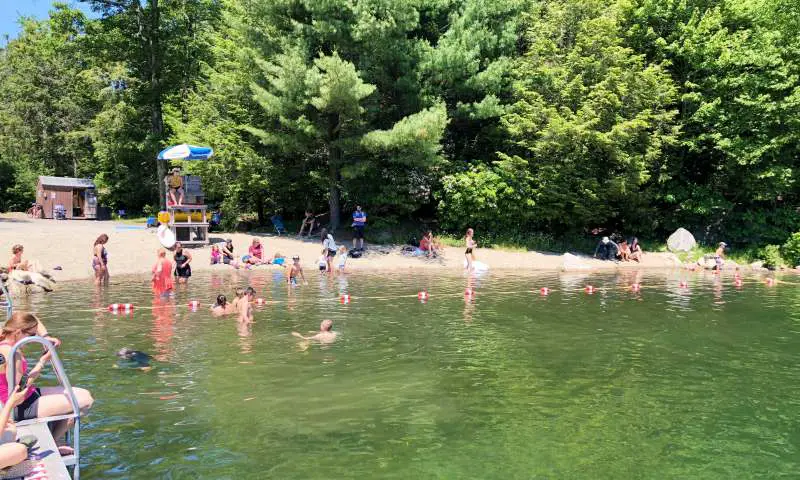 Around the far end (1 mile/ 1.6km into the walk) is a small area right on the edge of the lake with some large rocks you can relax on in summer.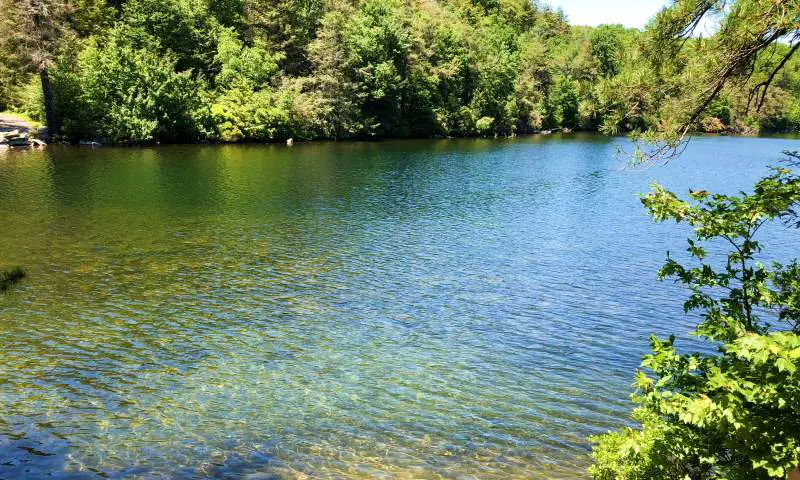 Soon after that, a small side trail to the left goes along the lake shore (with wonderful fall foliage and spring flowers) to a spot where you can do long-distance swimming in the summer.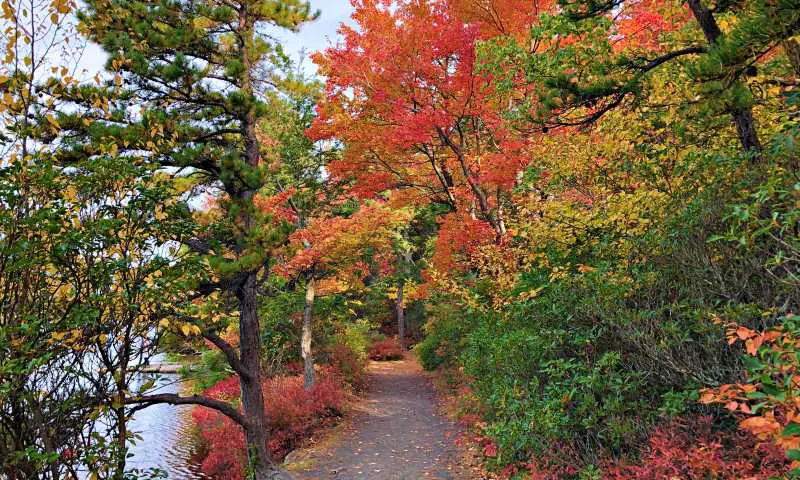 Back on the main trail, about 0.2 miles/ 320 m further along, after the path goes uphill a bit, there is a poorly marked short trail off to the right.  Take this and you will be rewarded with panoramic views of the park forest and the Hudson Valley beyond. 
This is especially stunning in the fall when the trees are awash with reds, oranges and yellows.  The peak time for fall foliage is usually the two weekends in the middle of October, though this can vary each year a little.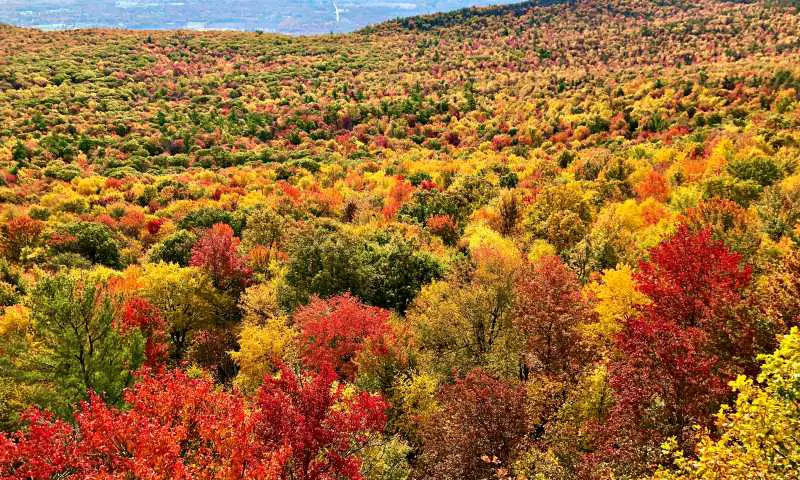 For more fall activities in the Hudson Valley, check my post on the Top Things to Do in the Hudson Valley in the Fall.
Continuing along the main trail, you pass under a pedestrian bridge, then come to a wide picnic area.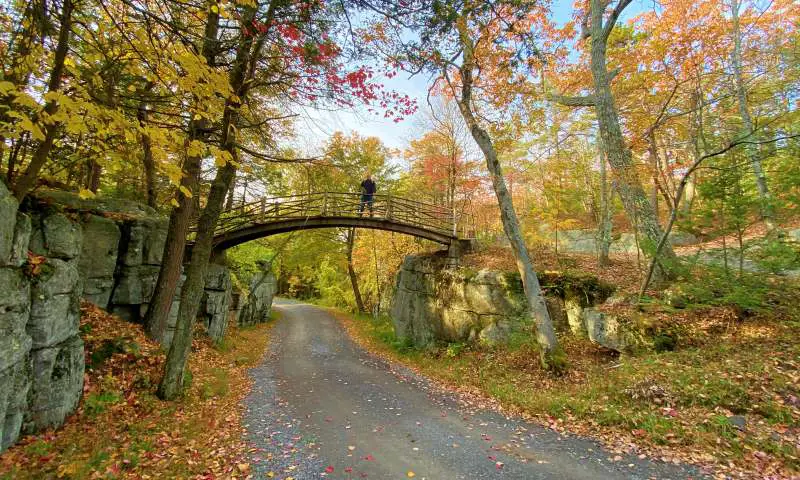 Veer left and you will end on the top of cliffs on the lake edge.  There are sensational views of the lake from here.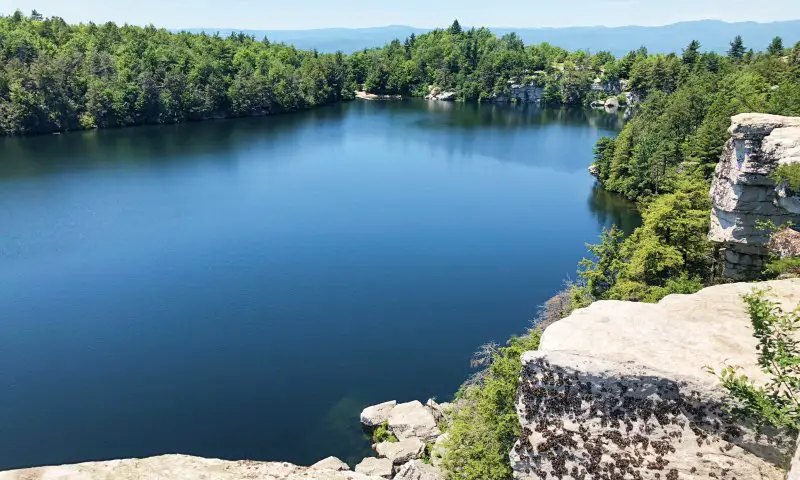 There are also some picnic tables and a large lawn, making this a lovely, albeit sunny, spot for a picnic. 
The trail continues around the near edge of the lake.  A short side trail to the left goes down to the water's edge.  You are not allowed to swim here and park rangers do monitor this from time to time.  Nonetheless, it's a lovely spot to sit and relax.
If you end up parking in the lower parking lot, there is another easy, pleasant hike from there to the Awosting Falls (1.5 miles/ 2.4 km / 30 minutes) return.
---
Minnewaska Lake Loop Map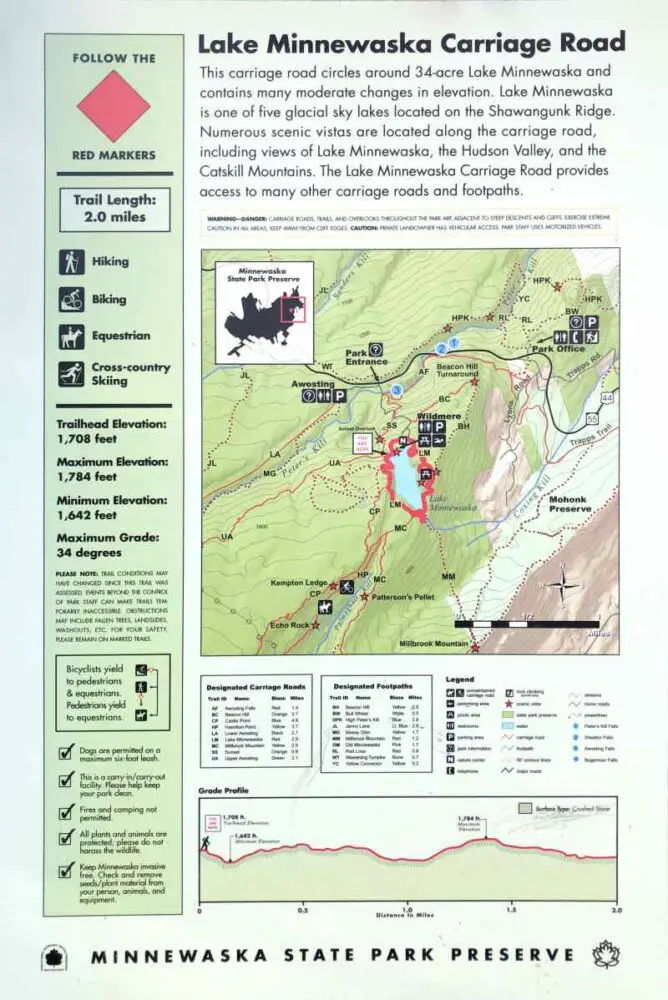 ---
Travel Insurance
If you are traveling to the Hudson Valley from elsewhere in the U.S., check to see if your health insurance covers you.  If not, and if you are traveling from abroad, you will definitely want to get travel insurance.  If you are not sure what it is all about, read my Guide to Buying Travel Insurance. 
A good insurance option is Travelex.  You can compare Travel Insurance plans here or get a quote right now:
---
Happy hiking!
Do you have any favorite Hudson Valley hikes you'd like to share? I'd love to hear about them. Comment below. 
If you liked this post, Pin It to your Hikes and Hudson Valley boards!
There are more great hikes to do in the Hudson Valley: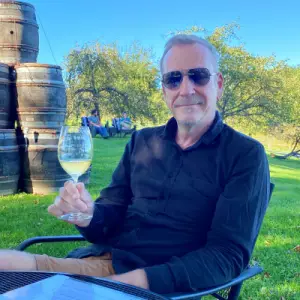 Ian James is a Hudson Valley local. He's been to 82 countries and all 7 continents, but there is truly no place like home and he loves to spend weekends and staycations continuing to discover all that the Hudson Valley has to offer.
---
Hudson Valley Discovered is a participant in the Amazon.com Services LLC Associates Program, an affiliate advertising program designed to provide a means for sites to earn advertising fees by advertising and linking to amazon.com. Amazon and the Amazon logo are trademarks of Amazon.com, Inc. or its affiliates. As an Amazon Associate I earn from qualifying purchases.